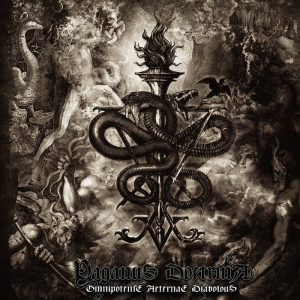 Album Title:
Omnipotense Aeternae Diabolous
I have to admit that I do not know that many interesting acts from Costa Rica, but despite the relative modesty of the scene, there are more than a couple of great acts out there: Alastor Sanguinary Embryo, Insepulto, Mortigor, Corpse Garden, From Oblivion or Morbid Funeral – and Deiphago, if you want to… And within that not-to-underestimate list of impressive acts, one needs to add Paganus Doctrina, a band that actually started half of the nineties. After a long break, they reformed almost ten years ago, but this album, Omnipotense Aeternae Diabolous, isn't but the band's official debut full length. Actually, they started as Insepulto (a review on their The Necrodex-album will soon be written by undersigned), but nowadays both bands are separated entities (okay, they still share mutual members), yet still it is remarkable how long they could stay 'underground'. With this album, things will change the positive way.
This album was supposed to be released a couple of years ago, but due to financial problems of their label (Ashen Productions), things were postponed – until now. Omnipotense Aeternae Diabolous has duration of forty six minutes and opens with Overtura Infernale: Omnipotence Aeternae Diabolous (mind the difference of the word 'omnipotense' and 'omnipotence' in album's title and song title!), which gets introduced by bells, Gregorian chants and sounds from sheep and / or goats, screaming people / children, and wind, and then invocating female voices with church bells introducing the core of Paganus Doctrina's existence: Evil Luciferian Metal!!!
And this kind of Metal sounds oh so great; one would forget this comes from a country we, at the western worlds, wouldn't expect to create such supremacy. With this album, the band brings very obscure yet highly melodic, multi-layered and deadened Black Metal. One of the many things that strike me are the splendid drum patterns! I am not totally sure if everything has been performed live or with an additional drum computer, but it does not matter this time, for it is just great. Another thing that is quite remarkable is, for example, the variety in speed. The opening song is bombastic and slowly pounding (Abyssal Doom Black, I would like to call this, if you permit me…), but the next piece, Aestigmata Satani. Ataviado En Fuego Fatuo, hammers like a pyroclastic eruption, akin to the Swedish scene à la, let's say, Marduk and the likes. A first intermezzo comes through the dark-goth orchestrated composition Tenebris Litaniis Ad Lux Ferous, a short classic-symphonic piece with haunting vocal samples (some kind of propaganda), but then the fierce and raging terror à la Aestigmata … continues, leaving no room for mercy, taking no prisoners. Yet still the band manages to add lots of variation into the sonic assaults: acoustic parts, church bells, doomy decelerations, epic melodies, and occult structures. And they even do not eschew to cross the borders with the Teutonic Thrash scene, cf. some riffing in a track like El Surgir De Prometeo.
I am truly surprised by the quality of this release. Okay, Paganus Doctrina consist of experienced members, yet still… Fans of both the Swedish and Greek scene, as well as any other one as a matter of fact, have to give this material a try!