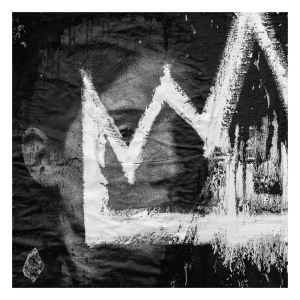 I have to admit that I haven't given enough attention to Nantes, France, based Throatruiner Records in the (recent) past. I did write some reviews for releases by e.g. Love Sex Machine, Protestant, Fange, Verdun, The Rodeo Idiot Engine or Vermin Womb, amongst others, but this label deserves more support for sure. Let this review be a next step within promotional spheres of mutual respect and awe.
Well, I had not heard of Palecoal before, but that might not be that strange. It's the moniker of a solo-outfit by French musician Alan Billi, whom you might know from e.g. Orbel or The Rodeo Idiot Engine. Under this flag, Alan did not record anything official yet, so that declares my ignorance on this project. But damn; Palecoal is such interesting act – I'll come to the sonic spectrum immediately.
Fake Fates is Palecoal's first official release; a four-track mini-album that was written and recorded during the first half of 2020. The result was mixed in France by Johannes Buff (Shorebreaker studio) and mastered in the U.S. by Rafael Anton Inisarri (Black Knoll Studio; also active within the Ambient scene, by the way), but Alan took care of the wonderful visuals himself (layout and artwork, including the paintings). The physical release is available on vinyl, i.e. 200 copies on black vinyl with heavy jacket, and on compact disc.
Everything starts with the title track – a composition that says everything. It opens with a far-distant sequence, guitar drones far away, short and characteristic, before evolving into a mostly hypnotic piece of intoxicating transcendence. A mixture of gloomy yet mesmerizing lead melodies at the one hand, and dark-edged, electronic beats, down-tuned yet ominous, at the other hand, are like some opening passage to a dimension of overwhelming wonder. At two minutes it all evolves into a radiative symbiosis of mesmerizing Post-Punk, Ethereal Sludge (indeed it does exist as from right now), Post-Ambient (another newly invented genre), gothic Cold Wave and bleak, even ominous Drone. That spine around that mesmerizing lead (which goes on throughout the whole composition) gets accompanied by clean, even emotional (male) voices, softly performed electronic beats, obscure synth lines (referring to the deepest areas of the Dark Gothic scene), transcendental semi-acoustic intermezzi on guitar, and soundwaves with cinematic and introvert grandeur. The intermezzo with acoustic leads and integer soft-spoken words, added by pounding electronic beatings at last, shows the open-minded approach of this project.
Conditioned Selfishness opens in a mostly meditative, introspective way. Dreamlike and ethereal soundwaves, then joined by esoteric electronics and semi-spoken words, create a deep-going Gothic attitude. In a subtle way, electric guitars join, lifting the whole up to a level where immersion and exploration go hand in hand. The second half shows a harsher side, with waving guitar lines, thunderous drum beats, harsh background strings and multiple vocal lines (also on the background), canalized into a breath-taking, somehow claustrophobic form of Indie / Noise Rock / Drone Sludge Ambient thing. …so satisfying …
With the track While (True), Palecoal delve into the deeper regions of the darkest areas of consciousness, with intense waves of noise, introspective aspects and psychedelic fragments. The whole atmosphere covers the listening experience in some melancholic mood, with uncompromising aspects of vengeful pride within the heavier parts. Hallucination and realism dwell sweetly along through foggy dimensions of un-physical worlds, balancing in between excessive energy and modest introvertion.
Isolate starts quite tranquil, like balancing in between Goth Rock and Cold Wave; it even withholds a certain Blackgaze attitude, for the atmosphere is truly oppressive and negative. And that's exactly the core of this last track: bringing introvert / introspective yet, at the same time, exuberant energy – modest yet still abundant in essence. The bleak execution and repetitive rhythm section give that additional atmosphere of mechanical static, but in combination with the vivid spine (i.e. the floating guitar lines, fine vocals, intoxicating keyboards and supportive bass lines), the whole trespasses the limitations of post-industrialization. This material goes beyond the borders of genre-limiting laws.
One thing however needs to be said. I do not know whether it has to do with my specific copy, or all, but I think the production lacks 'balls'. As you might know (or not – whatever – but then you know it as from now on) I do not like a surgically clean sound; I do appreciate that slightly rough, rusty edge once in a while. However, when talking about this specific release, there's a missing link within the mix, I guess. There's a shivering noise at the background, accompanying this whole experience to a primal recording session. Hey, don't get me wrong: that's not a devastating and terrifying means not to appreciate this stuff; the content is way too interesting to ignore. But I would have appreciated a more balanced mix for sure; the different voices in Conditioned Selfishness, for example, or… Whatever. But anyway, besides this (important or not) remark, this release is a monumental recommendation anyway, for those who search for some mixture of Cold Wave, Sludge, Gothic, Noise Rock, Drone, Kraut-Electronics, Dark Wave and Post-Punk.
Is this reality really real? What makes it so real? Is it all fake? A tangible virtuality built on lies, declarations full of hate, incomplete mass productions of fake fates. An under construction world where too many prayers are pretending to fit the role just to sit in the throne. All is so artificial. So unreal. Indeed, the human mask hides our true identity, and we're just faking, that which turns to out to be 'reality'. Something to reconsider…
https://throatruinerrecords.bandcamp.com/album/fake-fates
https://palecoal.bandcamp.com/album/fake-fates
https://deathwishinc.eu/collections/palecoal
https://deathwishinc.eu/products/palecoal-fake-fates?_pos=1&_sid=efcd7a8b0&_ss=r