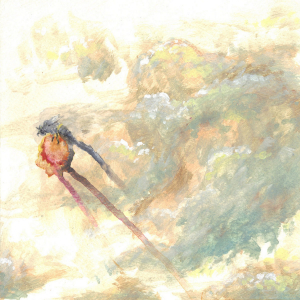 The duo Pando has never disappointed me before. Their remarkable muSICKal approach is heavy to digest, but since I have an indestructible stomach, I do swallow all compositions with tasteful pleasure.
But this is a gigantic surprise. Negligible Senescence (it means a biological process of lacking clear signs of aging -read: approaching mortality- when growing older, in case you do care) is the first mutual recording by Adam Bryant and Matt Gagne, if I am not mistaken, under the Pando moniker; it was initially digitally released in very early 2016 by the project. But hey, then / there you have Aesthetic Death, coming up with the ingenious idea to have this material pressed physically in order to re-release this majestic stuff (in an edition of 500 copies, by the way). All together: hurray!
No, seriously (for a while). The Aesthetic Death crew indeed re-issues Pando's Negligible Senescence recording on compact disc; more specific: a three-fold digipack with astonishing cover artwork and a twenty-page booklet, which includes the (few) lyrics and strange yet intriguing photographic artwork (by Matt). The material was recorded, mixed and mastered at first at the band's Uncle D's Pouch Party studio, and everything has been re-mastered in January 2019 at the famous Priory Recording Studio by no one else but Greg Chandler (not a stranger at all to the Aesthetic Death community, as you might know). The very same label, for your mostly necessary information, did also release the colossal epic 2018's Hiraeth.
Pando is a project with an extremely open-minded musical approach, implementing a wide range of influences, genres and elements. When you listen to opener Residue, for instance, you'll understand this duo's phenomenal yet disturbing identity. It starts with a semi-acoustic melody, somewhat Americana-like, and noises at the background, soon joined by wretched blackened screams, then accompanied by full-acoustic guitars too. For three minutes this approach crawls forward, slowly yet ominous, with additional vocal samples / whispers joining the still (semi) acoustic adventure. Then things grow into heavier proportions, when drums (drum programming?) and eerie electric strings (with an oppressive Nordic-styled sound) join. Then, at least, at almost five minutes, all Hell breaks loose, when it gets harsh, droning, overwhelming. This is a bleak form of Funereal Blackened Doom Sludge with an escapist, pessimistic atmosphere. The philosophical questions provided via this song's text make the experience even heavier to carry.
Runt opens with a forceful guitar riff, yet moves over to a bluesy piece, with once again (vocal) samples, rough screams and a cheesy instrumentation (bluesy guitar riffs and jazzy drum patterns). That combination of contrasting elements, as well as the repetitive main melody, work mesmerizing, and when a mouth harmonica (mouth organ) joins, the confusion only grows bigger. Even that 'solo' fits and deceives at the same time. At five minutes, things become monumentally overpowering, even though it's just those screams and droning strings for a while. This sonic mind-f*cking is exactly as what a lyrical fragment posits: 'I always wondered what it'd be like to use your own breath to fog up one's glasses, but not to wipe the condensation off'…
Negligible Senescence continues that way, mingling several musical styles (DSBM / Funeral Doom / Sludge / Primal Black Metal / Drone / …) - even including injections from Cyber-Electronica (I do recognize hints of Naos / Diabolos Rising in The Suite Shuffle or The Contemporary Disposition Of Accepting The Ground As Human), Experimental Noise (Mommy Eats and the second half of aforementioned The Suite Shuffle), Oriental Music (like in Trek Through Utah Desert), Jazz Noir and Americana - elements from both related and contradictious scenes, acoustic and electric excerpts, field recordings and samples (mainly vocal extracts, like excerpts of conversations that sort of remind me of Nights Amore's majestic yet, unfortunately, way too underestimated release Subscribers Of Death), a wide range of differing drums and percussions, injections from horror movie-alike sound(track)s (Ohm is an example of asphyxiating ambience), both intoxicating and down-earthed chapters, and so on, and so on, and so on…
Pando are able to create something specific, a very own-faced, eh, soundtrack. At first, the result is bizarre (that's a very modest definition provided by undersigned), no, it's weird and confusing for sure. It needs several listens, but after a while, you might see the total picture; it's like a puzzle, slowly revealing it's raison d'être. Throughout the years, they sort of finetuned their sound, but this debut showed / and still shows! / a remarkable craftsmanship that – let's be honest – results in a 'you-like-it-or-you-do-not' result. As said, give it a try (a couple of tries) and let hallucination and discomfort overwhelm you…
PS: very recently, Aesthetic Death did release the newest album by Pando, called Rites – once again a stunning piece of aural morbidity. A review on this new material will surely follow (sooner or later)…
https://aestheticdeath.bandcamp.com/album/negligible-senescence
https://www.aestheticdeath.com/releases.php?mode=singleitem&albumid=4215
https://thetremblinggiant.bandcamp.com/album/negligible-senescence
https://www.facebook.com/heaviestorganism
https://www.youtube.com/watch?v=LLynhigeN6M