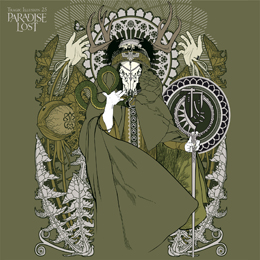 Album Title:
Tragic Illusion 25 (The Rarities)
First of all: no massive introduction, for everyone knows this band, and nobody will accept the current Metal scene without the influence once initiated by these Englishmen. I was extremely 'into' this band's music in the beginning of their history (I sort of lost it after Gothic / Icon), but the band for sure is one of the most popular and influential acts on Mater Terra Metalica.
In order to celebrate their 25th anniversary, Paradise Lost compiled fourteen tracks as Tragic Illusion 25 (The Rarities) (title also inspired by last year's Tragic Idol, but the smart ones amongst you know that, of course). With one exception, this is not a sampler of previously unreleased material, but a collection of rarities (which probably explains the album's subtitle The Rarities, don't you think?...).
The start is enormously interesting. Tragic Illusion 25 … opens with Loneliness Remains, a completely new song with a fantastic Doom-vibe. It covers the band's whole history, for combining the catchiness of the 2000's with the pounding heaviness of the early years. Excellent song, probably one of the best compositions the band did in almost two decades. Then there's two hands full of Paradise Lost-stuff like the band performed as from Icon on. The songs are rare things, released as b-sides. They didn't make it to one album or another for being not quite fitting, but they were too 'good' not to use them. And that's what this compilation is all about. Of course, the material differs from semi-emotional Gothic ballads to catchy up-tempo Doom Rockers, with everything in between. A couple of songs are orchestral monuments (the Lost In Prague Orchestra Mix-editions), showing another side of the band (yet still enormously recognizable, of course). And last but not least, Tragic Illusion 25 … ends with two re-recorded versions of pretty old stuff: Gothic 2013 and the classic (at least to me) Our Saviour 2013 (for the smart ones: indeed, the 2013-edition of respectively Gothic and Our Saviour) – not in a completely new jacket, yet re-recorded just for fun, for old times' sake.