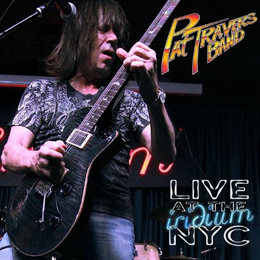 Pat Travers is a Canadian born guitar virtuoso, who was rather famous some thirty odd years ago, having had success with his 1977 'Makin' Magic' album and also with his 1980 'Crash and Burn' album.  So it's no shame if you've never heard of him if you were born in the nineties or later, since he went out of the spotlights.
But the guy made a comeback in 2012, with a new band lineup, except for drummer Sandy Gennaro who returned behind the skins.
This record was recorded live during two gigs at the Iridium Club in New York in February 2012.  Having heard nothing of this man since a very long time (I guess I somewhere still must have some LP's of him, but haven't put them on since over at least 15 years), it was welcome surprise to hear the energy coming out of these songs, not to mention that the man hasn't lost it's magic touch either.  What a fabulous guitar player. Do not expect to hear metal though, nor 100 % hard rock.  This stuff rocks, but it's got lots of blues in it as well.  It's great to hear the guitar played like that, not concentrating on the speed, but rather on the sound.