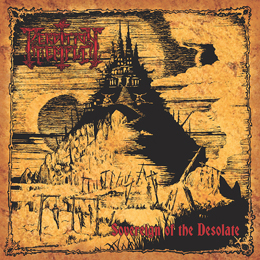 Album Title:
Sovereign Of The Desolate
Release Date:
Monday, December 29, 2014
One of the vinyl-EP's within a new series, kindly provided by Hells Headbangers Records, is Sovereign Of The Desolate by, well, I dare to call it a top-act: Perdition Temple. Actually, the members were or still are involved with acts none less than Immolation, Angelcorpse, Black Witchery or Acheron. Perdition Temple is about to release their second album, which will be called The Tempter's Victorious. As appetizer (and believe me: it will make you hungry!), Hells Headbangers Records do release this two-track EP, consisting of two exclusive songs, amongst which a Blasphemy-cover.
The title track stands for bestial and barbaric Death / Black Metal that stands miles away from the so-called Second Wave trend. Rather it is that kind of stuff that sickened our globe as from the First Wave-era on (cf. Profanatica, NunSlaughter, Archgoat, Blasphemy, Beherit, early Morbid Angel, Angelcorpse and that kind of brain-suffocation). It's speed-up, injected by malevolent thrashing leads, and supported by a head-splitting rhythm section plus purely venomous vocal blood-spitting.
Weltering In Blood, the Blasphemy-cover, is the perfect proof for this band's source of influence. Of course Impurath's vocals fit well to this malicious sonic skull-hammer, and I have nothing but respect for the fantastic execution of this (old) song.