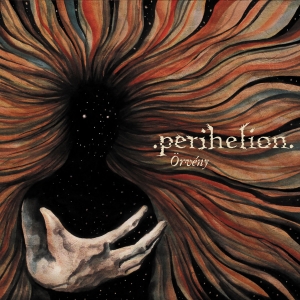 Release Date:
Friday, November 10, 2017
Hailing from Debrecen, a Hungarian city close to the Romanian border, Perihelion were formed at the very beginning of this century under the moniker of Neokhrome. After three full lengths, the band decided to change their name (and their stylistic direction, which was much darker and aggressive in the early years - Ivan) into the current one, Perihelion, named after Neokhrome's last studio album, and which is the scientific name for when a planet, satellite, comet or whatever comes closest to its star or planet (in case of a satellite) during its returning and repeating orbit. The band re-released that Perihelion album (with some bonus tracks), and came back with another full length (Zeng) and an EP (Hold) too in the meantime. And now they return with Örvény (which means 'vortex'), released via France's Apathia Records (heavily promoted by Dooweet Agency). It comes with cool cover artwork, once again painted by Costin Chioreanu (who worked with the band before).
Örvény stands for thirty-eight minutes of experimental and high-tech Rock / Metal. The approach, and that's a cool element, combines old styled elements with quite some modern details. Especially riff-wise, the combination of both trends shows its face. In general, however, everything sounds quite progressive, with quite some funky and jazzy hooks. The latter gets expressed deeply by the rhythms section, with that Funk-laden bass sound and those alternative-proggy drum patterns. Quite some guitar leads too come with a pronounced avantgarde touch. In a spacy way, yet without fading away in exaggeration, are the fine synth injections.
Vocal-wise, it's a 'like-it-or-hate-it' story. Gyula has a specific vocal timbre, clean and melodic, and unusual within the heavier Rock scene. He sings pure, that's a certainty, with some rawer angles when going heavier, and without those silly high-pitched yells. Whether you like it or not, it does go well with the Post-approach of this band's Music. A difficulty might be the fact that he sings in his mother tongue, Hungarian, which might be confusing for not-natives from Hungary (besides the dramatic change of their musical approach, this too is a huge difference with their existence as Neokhrome, back then performing with English lyrics - Ivan). But seen the titles and their translation (all hail Google Translate) it is not about merciless hatred, eternal war and suicide…
There is a lot of variety, in both song structure and speed. A couple of tracks are quite energetic, some are rather doomy, then it's post-modern in approach, or atmospheric and dreamy. But it remains cohesive all the time. The fine intros and outros too are cool and mostly atmospheric. Some moments are quite expressive and extravert, then again you'll notice a sensitive and emotional approach too. And the heaviness too interchanges a lot with calmer, more integer excerpts.
This material might be appreciated deeply by open-minded fans of melodic and atmospheric Doom / Alternative / Prog / Post Metal / Avantgarde Rock Music…