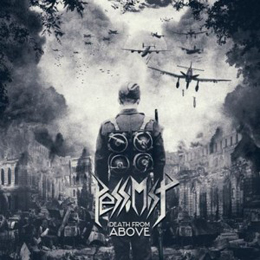 Pessimist were formed in 2006 and after some demonstrational recordings they debuted with Call To War in 2010 (Firefield Records). Since then, little things happened, but Pessimist started working on a new full length, which is about to be released through Germany's MDD Records.
Death From Above was recorded by top-producer Christoph Brandes at his Iguana Studios (think: Necrophagist, Dead Eyed Sleeper, Fragments Of Unbecoming, Unlight, Darkness Ablaze and lots of others) and for the better part it goes on in the very same vein of the official debut Call To War. Death From Above indeed stands for energetic, up-tempo Teutonic Thrash Metal in a mostly Germanic style, combining the barbarian purity of acts like Sodom (the post-Obsessed Of Cruelty-era) and (not that very early) Kreator, with the beer-fun of Tankard- and Motörhead-ish joy à la Italian acts like Bunkur 66 or Children Of Technology; but then again spontaneously injected with some neo-Bay Area-attitude. …are you still with me?...
Because of the generally open-minded approach, I'm sure this material can't do wrong within the open-minded Death and Thrash scene, but a  warning be said: Pessimist's Death From Above is not 1) original (on the contrary; some parts are rather predictable) nor 2) unique, but the average quality of the songs is all right, and several tracks, like Behind The Veil (!), are of superior quality. Yet as you might have understand: Death From Above will probably please the 'real' fan; like I do, most will like this material, but I don't think we're longing for more right now, do we?