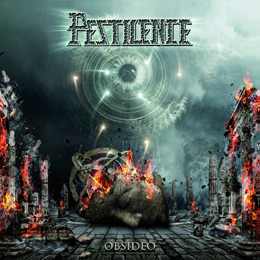 Release Date:
Tuesday, November 12, 2013
In a series of bands I do not want to introduce anymore, because it will be a waste of time, this Dutch act comes next. Those who do not know Pestilence better skip reading, because for this band is one of the most important ones within its specific genre, you simply have to know them. But again I cannot just go onto the specific review without at least giving a very limited impression (read: I'm too lazy to add a full biography, but I am so willing to give my personal opinion about the band; if you do have a problem with that, please F.O. and D.D.). Pestilence are one of Holland's oldest Extreme Metal bands, once formed in 1986, and evolved from Teutonic-oriented Thrash act, over autopsic Death Metal, towards a more experimental, yet still extremely intense form of Death Metal. Time-out for a couple of years (1994-2008), then a comeback, showing these guys were (and are) still brilliant! And I have always liked them: the Thrash-madness on Malleus Maleficarum (and the demos before this debut), the massive Death grimness of Consuming Impulse, the experimental influences as from Testimony Of The Ancients and Spheres, but also the technical excellence of the comeback-albums Resurrection Macabre and Doctrine.
Brings me to Obsideo, recorded by guitarists Patrick Mameli and Patrick Uterwijk, Jeroen Paul Thesseling, newly recruited Australian drummer David Haley (the latter is also involved with, for example, Psycroptic, Ruins, Blöod Düster and The Amenta), and previously unknown German bass player Georg Maier.
Obsidio sort of sounds like an amalgam of all previous Pestilence efforts. Past and present, tradition and progression, subtlety and aggression, it all gets nicely melted into a massive whirlwind of Aural Death Terror. Every single track breathes a superior stench that might have characterised the past efforts, but if multiplied with extra power, intensity and energy, it might lead you to the definition of this newest record. Besides, the production has never been as heavy before. It surely is organic, yet my organs can't stop twisting around while my body is experiencing Pestilence's majesty. And once again, in combination with the conversant elements of Old, these Dutchmen do not eschew to add a nice dose of own-faced experiment and eccentrism. However, and that's a mostly positive thing, there is no infantile or ridiculous exaggeration involved.
Great riffs, great vocals, great rhythm section. Great compositions, great performance. Great sound, great production. Great cohesion. Great artwork as well. Great album, great band!
…on a great label, by the way…