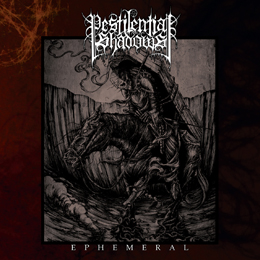 I have never hided my appreciation for this Australian act. I do adore each single release I know about them, but I was sort of anxious because it took quite a long time to hear about these guys again. But don't worry, because Luke 'Balam' Mills and his crew (quite a new line-up!) finally, after almost four years, return with the fifth full length, Ephemeral. Once again much of the material was recorded, mixed etc. by Balam at the Scourge Studio, and drums and vocals were registered at the Adversary Studio.
Ephemeral has a total running time of almost three quarters of an hour, and of course, once again, the album opens with a short yet very ominous and oppressive intro (called Throes). As from Mill Of Discord, Pestilential Shadows bring that characteristic ice-cold, ominous, abyssal and desolate form of semi-Nordic Black Metal, including lots of variation in speed. This specific song, for example, opens very slow, yet after about one minute and something, things speed up a lot. That's one of the many fine characteristics of this band: the permanent interaction in between different tempos. The atmosphere still is asphyxiating, with that specific semi-melancholic attitude (without turning into spheres of suicide-longing). Also the song structures are in the vein of the past: eerie and hypnotic (listen to those great trem melodies), yet unique in their minimalism and simplicity. Poetry for the dark-minded it is.
I still think In Memoriam, Ill Omen is Pestilential Shadows' strongest album ever, but once again Balam succeeds to create a fabulous aural experience, a grim, partly sad - partly angry journey through spheres of 'heart-wrenching emotion and fathomless despair' (I stole this little phrase from the biography, but I permitted myself to do so…). More than before, I think, this stuff might be comparable to the French and Canadian scene (cf. the so-called Cascadian current), yet still the Scandinavian, Belgian and Hungarian scenes might come to mind as well (amongst many others, of course…).