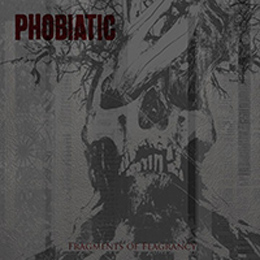 Phobiatic might not be the best known act from Germany, but when listening to their music, they seem to be active for two decades. It has to do with their technically skilled performance especially, which was clear already on their An Act Of Atrocity-album, or even the Spreading The Plague demonstrational recording (2009). But they seem to have evolved even more right now. The quartet, now including Warfield Within's Sebastian Meisen on vocals (other members: guitarist Robert Nowak, bass player Michael Stifft and drummer Kai Bracht), always had the intention to pay tribute to the likes of Morbid Angel, Origin or Deicide, but I think they did evolve even further in mean time.
With Fragments Of Flagrancy, Phobiatic go deeper into the dungeons of high-tech malignancy. A first thing that strikes me is the timeless approach. At the one hand, there are so many elements that refer to the origin of this trend: basically simplistic yet bestial brutality in riffing and rhythm structures, leaving no room for fake modernism whatsoever. At the other hand, there are quite some elements that are courtesy of this century, i.e. the massive sound, the globality of emotions (haha, any idea what I mean with this? -> psychic damage combined with masochistic pleasure, experienced the modern way), or, evidently, the massive production.
Normally I do not dislike the lack of originality. As long as the result comes close to, or even transcends the comparisons, or as long as it does not sound like shameless / brainless copycat-shit, I truly cannot mind the non-original approach. In Phobiatic's case, however, I am pretty critical, for I am still searching for what this band might have to offer as value… The quality of both song writing and performance is all right, but where is that specific thing that might lift the result up to the highest regions of the scene? I am still searching for it, and I haven't found it yet. Technically high-skilled tremolo leads aren't enough to surprise (at least the convincing way). And once in a while I have the idea these guys are overdoing themselves, with exaggeration as result.
Anyway, this is another release within the trend alike to Origin, Nile, Suffocation, Immolation, Gorguts, Cryptopsy, Beneath The Massacre, Deicide or Dying Fetus. Fans of this kind of sweetness have another reason to buy etc…