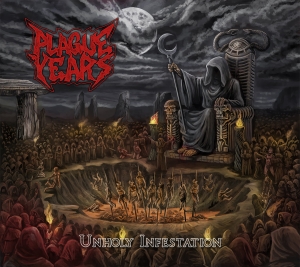 The band Plague Years (the one from Detroit, Michigan; there seems to be a Deathcore-act with the very same name from Utah too) debuted in 2017 with a self-called EP, independently released via their Bandcamp-page (and different streaming formats). In Autumn 2018 they released their second recording via the very same sources, called Unholy Infestation. Seen the quality of this stuff, Seeing Red Records took the decision to promote this material more intensively, and they decided to put this material on compact disc. 300 copies were pressed, waiting to get used to support mental destruction and psychic lability once more. Enjoy!
No, seriously. The six tracks on Unholy Infestation clock almost twenty-nine minutes. Everything was performed by vocalist Tim Englehardt, drummer Mike Jurysta, bassist Rian Staber and guitar player Eric Lauder with Chris Trastain, and the result got mixed and mastered by upcoming musician Arthur Rizk.
When it comes to Thrash Metal – and yes, this is a very personal opinion, yet since I am the reviewer of this album, I can write whatever I want, haha – anyway, there are certain subgenres that I do adore, some that do not interest me at all, and some that make me nauseous. So, I am always quite sceptical when listening to a (new) Thrash release. Well, after several listens, I can say that Unholy Infestation indeed was worth being re-edited by a professional label. I'll explain why.
There are plenty reasons to consider this stuff worth being promoted, both subjectively and objectively. From objective point of view, one can start with the sound quality, which is simply skull-crushing. The production is so heavy and intense, strengthening the sonic result enormously. The mix leaves room for all 'ingredients' to come to the foreground. Okay, the vocals are very 'present', and the bass and rhythm guitars are not that firmly represented the whole of the time, yet still the productional result is very cool. I would even call it 'modern', despite my aversion for modernism (oops, that's something subjective – yet once again, it is I who is writing this chronicle, okay?!). The riffs are very firm and heavy in sound, and the solos prominent yet not too overwhelming (read: not stealing all air to respire).
But there is more than the quality of sound. The song writing and performance are at least as important, evidently. And yes, that's both subjective and objective. Plague Years are deeply inspired by the earliest years of the universal scene, though they are not playing 'old school' stuff whatsoever. No, the basics are rooted within the scene from the Eighties / Nineties, yet there is a timelessness going on – not only caused by that decent production, yet also performance-wise. Besides, this material lacks invention and originality (objective), yet since the conviction of play and the highly qualitative song structures are quite impressive, I do not give a f*ck about that (subjective). Moreover, the band does not just copy one or another band either. Their material might not renew the scene, but Plague Years are not a cheap copycat whatsoever.
As said, Unholy Infestation is a viscerally harsh and intense album, but then again it does not consist of furious blasting riffs and molesting solos the whole of the time either. And that's another strength, I think. Some pieces, like Taker Of Life, are built around aggressive riffs especially, but many excerpts are slower, decelerating in equilibrium with the more robustious and severe chapters. Throughout the whole album, energy and intensity remain keywords for sure. Another remarkable aspect is the groovy character of this material. Whether they play fast, mid-tempo or little slower, Plague Years somehow have a grooving way of riffing. Whether you like it or not, I think that it characterises this band a lot, and it shows their greatness for sure (that was another mixture of objectivity and subjectivity, I know…).
The timeless and universal Thrash Metal on this album gets penetrated with some elements from related genres to, i.e. Death Metal and Hardcore. Some riffs have a lot in common with the old schooled Death Metal trend from twenty-five / thirty years ago. Even some solos could have been part of the late-Eighties / early-Nineties Death / Deathrash Metal recording. With that 'Hardcore' thing I am rather referring to the vocal timbre, and especially some shouts / choirs, having that punky dirtiness and crusty arrogance. Yet then again, this too fits to the whole concept for sure.
Unholy Infestation is a very qualitative, professional and enjoyable album, even though it might sound quite predictable from time to time. The members are skilled, and with intrinsically well-written and honestly-performed craftsmanship, they turned this experience into a fine, convincing listening experience. I think Thomas and the whole Seeing Red Records / Redefining Darkness Records did a splendid thing with releasing this Thrash material in a professional matter.