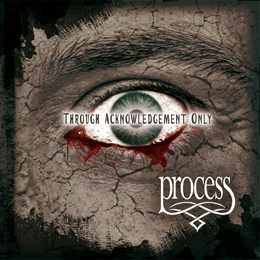 Album Title:
Through Acknowledgement Only
Process are a Danish act that did work for more than three years on their debut album, Through Acknowledgement Only; main reason: line-up issues (especially in finding a suitable drummer). They did work with renowned producer Jacob Hansen (think: Destinity, Submission, Yyrkoon, Xerath, Aborted etc.) to create a technical approach of modern Extreme Metal.
Through Acknowledgement Only lasts for half an hour minutes and brings a modern mixture of Scandinavian-oriented Thrash Metal and catchy Death Metal. The Danish and Swedish scene are somewhat comparable when it comes to this kind of melodic Extreme Metal, and this goes for Through Acknowledgement Only as well. Cf. courtesy of Mister Hansen, evidently.
Unfortunately I've heard it before, and sometimes it was more convincing. No, the professional approach cannot be denied, one cannot ignore the good intentions either. Yet I do miss creativity, original ideas and an own face. The better part of the songs is not convincing enough to blow one's mind into eternity, and therefore the lack of renewing stuff is a pity.
But a true surplus, needful to mention: the colossal power! Full-force rhythms and mammoth riffing, the instrumental approach (and the vocal as well, as long as the clean, melodic vocal parts aren't used) batters and bangs like a sledgehammer on virginal nuts.
Subdued recommended…