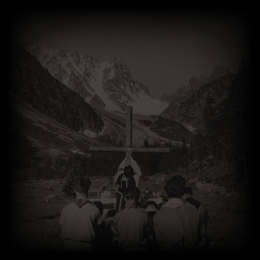 Album Title:
Process Of Guilt - Rorcal
Well, isn't that sweet. When two bands meet on a festival, they become friends. More specific, this was the case for Process Of Guilt and Rorcal, who shared stage at the 2011-edition of Amplifest. As a result, they performed live together several times afterwards too (like in Japan). And now, to seal their relationship officially, they will release an untitled split. This long player is limited to an edition of 666 copies, amongst which 166 in solid white (the others in regular black), with printed innersleeve and printed double-sided outersleeve.
---------------------------------
Side A consists of three pieces by Swiss five-piece Rorcal, simply called IX, X and XI. These guys, now with a new vocalist, recorded three full albums before, amongst which 2013's Világvége, which was received very positively by both press and audience. The material for this split was recorded and mixed at Yellow Recordings with Jean-Philippe Schopfer.
Rorcal's stuff is a well-balanced mixture of haunting and atmospheric Sludge / Post-Hardcore at the one hand, and forceful, violent Black Metal at the other. Beware: this does not shift in between both of them, it is a mixture of both. Sometimes it leans over towards the one, then again towards the other approach, but above all it is a permanent force-joining. In general, this stuff sounds apocalyptic and chaotic, and especially within the faster pieces (the major part) it sounds brain-smacking. Monstrous, barbaric, petulant…
8/10
---------------------------------
Side B offers us three pieces by one of the strongest (maybe the most popular) bands in its genre, at least in their home country, i.e. Portuguese quartet Process Of Guilt. Their previous releases were pretty well reviewed all over the globe. With exception of the drums, everything was registered at the TDA Studio with engineer Paulo Basílio.
Process Of Guilt's contribution starts with Liar: Movement I, which opens with a very eerie, ominous intro. After some windy noise, haunting guitar lines and ultimately grim blackish screams create a sphere so scarifying and bleak… After about two and a half minutes, the band performs what they are known for, i.e. doomed-out, somewhat mechanical and deadly Sludge / Drone / Doom. The whole is filled with so-called Psycho-Grind elements (Scorn, early Godflesh and the likes) and Post-Doom aspects (Minsk, Sourvein, Raum Kingdom etc.), and based on repetitive rhythms and riffing. Very much in the same vein are Liar: Movement II and … III, creating a sonic experience that trespasses all dimensions of normality. Despite a certain level of noisiness, Process Of Guilt's part is less chaotic than Rorcal's.
9/10
---------------------------------
Both bands differ from each other when it comes to their execution, song writing and sound. But even a deaf person can understand why both of them are related too. In essence, what Process Of Guilt and Rorcal do is twice another definition for one same aspect: sharing a specific point of view on harsh Musical Art.