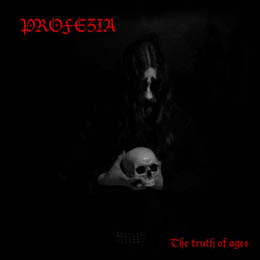 Profezia were formed in 2000 in Veneto, Italy, by Kvasir (think: Abhor, Ancient Supremacy or Spiritual). With this solo-outfit, he had a collaboration with international colleagues / artists in mind. After the release of some demos / promos, Profezia signed to Undercover's roster, and in 2008 the project released the debut full length Black Misanthropic Elite (Moon Anthem). In 2012, the second album (Truth Of Ages) came out, released via Ewiges Eis Records (CD-edition, limited to 666 copies), Sabbath's Fire (cassette, 300 copies), and Raging Bloodlust Records (on vinyl, 200 pieces). At the end of last year, Kvasir recorded a third Profezia-album, Oracolo Suicida, released via the Moribund-label. See update May 11th 2014 for the review.
Raging Bloodlust Records now re-issues the second album, The Truth Of Ages, which they did release on 12" vinyl on January 30th 2012. This time Kvasir collaborated with drummer and fellow-countryman Vidharr (who also did the drum parts on the debut; you know him for sure from sublime acts like Tenebrae In Perpetuum, Chelmno, Near or Beatrik), and Danish colleague-musician Ynleborgaz (vocals and piano) (think [also sublime acts, yeah]: Blodarv, Angantyr, Tågefolket, Holmgang or Make A Change … Kill Yourself), who was part of the line-up on Oracolo Suicida as well.
The five tracks (lasting in between six and nine minutes) stand for a very repetitive, slow and oppressive form of Underground Black Metal. The old schooled material sounds grim, going for both performance as sound. When it comes to the latter, the sound, I need to add that this one is free of gimmicks, special effects or sterile politeness; for this noise fits well to the abyssal experience, the rough, grim production is the best way of expression - but that's a boutade for everybody knows that. Remarkable too is that it does not happen that often for an Italian act having a sound that comes very close to the so-called Nordic sound, i.e. the Second Wave-era.
The Truth Of Ages has more advantages than just the perfectly fitting sound. The atmospheric-symphonic passages, for example (like the second half of the title track), are not that unusual within this specific sub-genre, but when written and performed with satisfying persuasion it turns out to be a true aural pleasure. I do also appreciate the nice equilibrium in between fast and energetic parts and calmer, slow ones (and everything in between). And one cannot ignore the misty, occult atmosphere either.
In general, this album lacks of originality, but I do not mind (once again) for the overall quality is, to my opinion, extremely high. I mentioned the sound, the song writing, the performance and the atmosphere, and the combination of them is truly satisfying. So, in case you might have missed this release two years ago, you have been warned now…