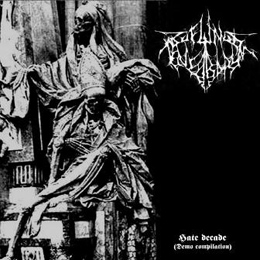 Album Title:
Hate Decade (Demo Compilation)
The Ukrainian label Vacula Productions isn't completely new, but during the past years there weren't that much releases. Yet as from early 2014 on, there seems to be some revival, with some hands full of albums, both new recordings as well as re-releases. Expect in the next couple of weeks several reviews on stuff from this label's great roster.
One of these 2014-releases on Vacula Productions is the re-edition of a compilation: Hate Decade (Demo Compilation) (the title says it all) by Spanish horde Profundis Tenebrarum. It gets re-released in co-operation with Germany's Sturmglanz Black Metal Manufaktur, by the way. This compilation was initially available via the small Spanish label Antichristian Front Records, which is run by Sergio 'Nocturn' (or 'NoctvrN'), who is, at the same time, band leader of this formation, Profundis Tenebrarum. Some might know him as well from his (former and / or current) activities in e.g. Devotion, Voice Of Hate, Martyrum Omnium (which is a solo-outfit of Sergio), Obscure or Domains. And together with two Graveyard-members (FYI: Sergio acted as guest on Graveyard's The Sea Grave), he recently started the project Vengeance, by the way.
Anyway, this re-release comes with material from three early demos, as well as four songs that weren't part of the 2007-compilation, resulting in more than one hour of blackened glory. This edition starts with those four additional tracks, which were initially released in 2007 on the Hell Bestial Conjuration split album (with another Spanish act, The Last Twilight). Just like the three demos on this compilation, that split originally saw the light via Sergio's Antichtistian Front Records (by the way, this label is still active, and you can expect some new stuff in a near future). This material, taken from the split, was recorded once again at the Testimony Studio during Spring 2007 on an 8-track recorder. Compared to the demo material, and then I am especially referring to Traumatic Soul Coronation and Abhorrent Christendom, not that much did change in essence. Read the next paragraphs to find out. This part of the fabulous Profundis Tenebrarum-discography too brings rhythmic, melodious and energetic Second Wave-influenced Black Metal, though maybe, probably, little more technically executed than before. But the essence, the basics, remains the same. It's like Emperor clothed in a slightly new jacket, yet with the same inherent content, if you know what I mean. A song like Ascending From Cursed Domains might reveal a little more experimental side of the band, but there is no totally new path taken since. Let's call it a natural progression towards adultery (though I did like the childhood a lot!). But Tremolos Adoration In Blasphemy, Wounds Of Heaven and, especially, the mesmerizing and oppressive hymn Upon Distant Darkness, might have been the reason as well why undersigned was captured by the glory of the Norwegian supremacy, while not being Scandinavian at all, haha.
Next come the four songs from the Traumatic Soul Coronation demo, which was released on CD in late 2001. It was recorded, mixed and mastered at Sabelin Studio, and in 2008, if I have been informed correctly, there was also a cassette edition (via Inner Voice Records). These four songs go fluently on in the vein of the former demo, Abhorrent Christendom (see next), with that specific sound that makes every fan of the Norwegian early-nineties scene horny. But this band knew (and still knows) how to be 'more' than 'just another copycat', and that has not to do with the splendid (!) skills, yet also with the characterizing additions, such as the short fairylike keyboard passage in the opening title track or the epic acoustic introduction on From Pandemonium. Sorrowful Moon (I) and (pretty lengthy) Sorrowful Moon (II), both with a fine outro (especially the second one comes with such an ominous, horrific outroduction), are highly interesting too in several aspects, and probably the most epic songs done at that moment.
The next three songs come from Abhorrent Christendom, originally released on June 6th 2001, and recorded (+ mixed and mastered) at the Testimony Studio, the very same studio where Sergio and drummer Dave Commando recorded more stuff afterwards and before. It's somewhat strange, because the former demo (see next paragraph) consisted of two pretty lengthy hymns, while this one has three pieces that last for three to four minutes. The emphasis, more than before, is focused on Nordic-styled, second Wave-oriented grimness, with quite some Scandinavian (and more specifically: Swedish and, especially, Norwegian) influences in both song writing and performance. Eternal Fields Of Wandering, Deus Non Est and Abhorrent Christendom stand for fast, warlike yet melodic majesty; the latter (the title track) being little more Thrash-edged in certain parts. Oh yes, the sound quality is better than the first demo (see next), yet still little demonstrational in all aspects. …though highly acceptable!
Finally this compilation comes with the oldest Profundis Tenebrarum-demo, Dark & Eternal, initially available in October 1997. This stuff too was registered at the Testimony Studio. Keep The Ancient Spirit Alive, the first out of two hymns, starts very atmospheric, and slowly introduces the oppressing core that characterises Profundis Tenebrarum throughout their complete existence. It's a Nordic-styled song, with both integer parts as well as thrashing outbursts, (sometimes wonderful) acoustic and semi-acoustic injections and, remarkable, truly fabulous, prominently present bass lines. The acoustic outro on this track too is just emotionally breath-taking. The second track from this first demo, the title song, is a pretty lengthy one, clocking nearly ten minutes. The permanently present sulphuric wind and the crafted structures, once again with so many layers and quite some differentiation in tempo, construction and execution, make this a highlight. Since this demo is quite old (almost two decades of age), it must be considered as unique, as a milestone in many senses. I do easily comprehend right now how this band gained its status, though I wonder why their 'popularity' was limited to the Iberian peninsula especially. Things will change right now, I hope. Anyway, a last word about this demo has to do with the sound, which is not so bad, yet indeed little lo-fi. But do you care? I do not either!
Hate Decade (Demo Compilation) is, I think, more than 'just a demo-compilation'. It's not the coherent totality alone that makes this band so interesting. I think that it is the quality. Sure, Profundis Tenebrarum lack of originality. Sure they do not bring something renewing at all. But these guys sound as if they were there, more than two decades ago, to create this sonic world we're all worshipping …
FYI: more Vacula-releases to be reviewed very soon, so stay tuned!