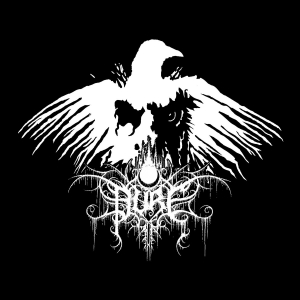 [In a series of somewhat shorter reviews, yet necessary and remarkable ones, from Satanath Records, GrimmDistribution and Symbol Of Domination Productions and their era 2020/2021, a (quick) one about Seeds Of Despair, the last recording by Swiss act Pure]
Once again the result of a cooperative release, being Satanath Records (from Georgian soil!) in partnership with Obscure Abhorrence Productions and Onism Productions (the latter taking care of the tape-edition), Seeds Of Despair is the last official studio-recording (until now) by Pure, one of the many outfits by Bornyhake. The CD-edition comes with an eight-page booklet, which includes the lyrics (in French, the native tongue of Monsieur Da Silva); the lay-out, FYI, was done by Funere's Jane Orpheus (partner of Satanath Records' Aleksey); cover-artwork was created by Bornyhake himself.
Also the whole recording and mixing process is courtesy of the mastermind behind this project himself (at his own Chaos Studio, in case you care). Bornyhake did write and record about everything himself, with exception of the drum-parts, which were performed by famous Polish skin-molester Krzysztof Klingbein (formerly or currently involved with e.g. Godhead Machinery, Resurrection, Deathspawn, Aggressor, Sarmat and many more).
This album  consists of six titles, which clock just over three quarters of an hour. And those trusted with Pure will, once again, be satisfied by this raw yet honest Black Metal. Let's call it 'pure' in its veins. What to expect? Well, quite energetic and highly melodious Black Metal, of course, with a focus on elegant leading parts, technically high-standard textures, blazing rhythms, droning strings (enjoy that magisterial yet enormously sinister piece Somewhere In The Night, Loneliness Dwells to get confronted with that buzzing string-section) and a grim, sulfuric throat. It's extremely dynamic and varying; the latter going for both tempo and structure. That variation in speed deals with everything from doomed over mid-tempo to avalanche-like fast, permanently interchanging with an organic smoothness. The whole atmosphere is oh so morbid (best example: the Doom-epic Speak In Silence), like blindly floating around within a suffocative nebula, surrounded by glimpses of evil spirits and their haunting cries. Besides, Pure trespass the boundaries of the tradition by injecting some ingeniously crafted techniques, both within the guitar-sound as through the core of each single composition on the album; maybe more than before, dissonance and discordance overpower their known sonic patrimony. Worth being mentioned – nope, I mean: necessary being mentioned, as well are the specific and characteristic own-faced additions and divergences, like unusual, frenzy chapters being penetrated within the tradition-based foundation of all creations on Seeds Of Despair. Thanks to the lengthy duration of each piece (the shortest one clocks five minutes and something, the other ones in between almost seven and nine minutes), Pure are able to experimentalize with deviation and aberrance, yet lacking exaggeration or stupidity.
A(nother) important thing is that this project's sound is well-balanced and neatly harmonious, despite (or better: thanks to) the unpolished rawness in production. Seeds Of Despair has a very decent mix (it's captivating how natural the bass-lines or the whole percussion-set are part of this huge adventure), and at the same time the guitars and voices have that bushy, scabrous tang. Whether a piece is epic, vengeful, dismal, integer (there are quite some acoustic intermezzi, subtly interwoven within the whole package), gloomy, hateful or just opaque, it always comes with grandeur and finesse - pure and elegant it is!
Nothing more to add. Not just recommended but mandatory!
https://satanath.bandcamp.com/album/sat308-pure-seeds-of-despair-2021
http://satanath.com/releases/item/sat308
https://onismproductions.bandcamp.com/album/seeds-of-despair
https://pureblackmetal.bandcamp.com/album/seeds-of-despair
https://www.youtube.com/watch?v=Tjeq8s4nvXU
http://www.obscure-abhorrence.de/index.php?lang=en
https://www.concreteweb.be/reviews/pure
https://www.concreteweb.be/reviews/my-death-belongs-you
https://www.concreteweb.be/reviews/enoid
https://www.concreteweb.be/reviews/enoid-0
https://www.concreteweb.be/reviews/mortuus-caelum-enoid-dizziness