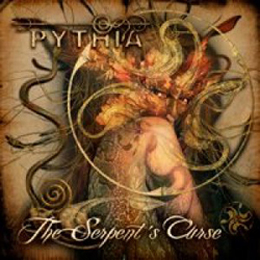 Release Date:
Friday, November 16, 2012
Pythia is the name of a priestess from Delphi at the Temple of Apollo, also known as the Oracle of Delphi. She was known for her hallucinations, translated into revelations or prophecies, spoken in a weird tongue, said as it came from the Gods directly. Some historici think it was because of the use of certain drugs, others think she acted under the influence of certain gasses (Greece is a rather seismic region, as you know), or it might have been some sort of self-hypnotic or mental state of whatever.
Anyway, it's this oracle that inspired a British band to use that name as their moniker. It started about five years ago, when drummer Marc Dyos and vocalist Emily Alice Ovenden joined forces. Emily grew up as the daughter of two infamous artists, Graham and Annie Ovenden. Graham, being painter, writer, photographer and architect, is the founder of Brotherhood of Ruralists and especially known for his depiction of (nude) young children. More than once he's been prosecuted for paedophiliac actions (pornographic material, sexual abuse etc.), but he does label his fascination as 'Art' (FYI: he has never been convicted officially). Annie isn't that known, yet she seems to be a rather talented figurative painter, and she was one of the founding members of the same Brotherhood of Ruralists.
Anyway again, the daughter, Emily. Some might know her from her activities in Mediæval Bæbes, a female collective with a mutual passion for medieval music. Fans of medieval music need to check them out, believe me! When she, and drummer Marc, recruited some other members, the band Pythia started playing live all over the U.K. (for example in support of Tarja Turunen or Fields Of The Nephilim), and after a while they did hit the European soil as well. At the end of 2009, Pythia released their debut full length studio album, Beneath The Veiled Embrace, which was mixed and mastered by nobody else but Jacob Hansen.
Late 2011. The band starts working on the recording of the sophomore album, again with mixing and mastering assistance of Mister Hansen behind the knobs. The result, The Serpent's Curse, is a rather logical continuation of the debut, except for an increased cohesion between the individual tracks. The Serpent's Curse still combines primal Gothic Metal with lots of symphonic, epic, medieval, classical and orchestral elements. Emily's vocal range is pretty varying. The basic essence is focused on operatic vocals, but her voice plays with different timbres too. For sure her vocals are the 'spine' of Pythia's raison d'être. But don't ignore the instrumental importance. The balance in between vocals and instruments is nicely elaborated (the mix, of course, is of huge importance). Besides, the variety here is undeniably important as well. Here too the focus is bombast and fullness, but with differentiation in tempo, atmosphere and emotive approach.
It would be too easy to compare Pythia with the likes of Within Temptation, Leaves' Eyes, Delain, Elis etc., but if you're a fan of this kind of (female fronted) Symphonic / Gothic Metal stuff, then you will certainly crave for this second Pythia-release. Promised!