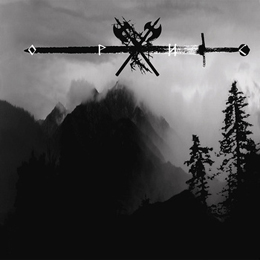 Release Date:
Saturday, February 15, 2014
Raggradarh are a very productive solo-outfit by a very productive Bulgarian human being, Georgi 'Erilyne' Georgiev. You might know him as well from bands or solo-outfits such as Aeonless (their new Vacula-album Underearth Horizons, by the way, will be reviewed in a very near future), Forgotten Forests, Calth or Perverse Monastyr, amongst others (often under different pseudonyms).
Oris is, if I'm not mistaken, the fourth full length Erilyne releases under the Raggradarh-moniker, after many hands full of demos, singles and EP's. The four lengthy tracks were recorded at the Faundry Studio (in Erilyne's home town Sandanski; maybe it's his own studio?), but apparently that was quite a while ago, in late Autumn 2010. I have no idea why it took so long to release this album, but is of no matter anymore, because Vacula Productions, one of the most surprising labels from 2014, has now released the result.
Oris consists of four compositions that last in between eight and twenty minutes, done in the mother tongue. It's an album full of so-called 'Heathen Black Metal', but I do not want to give this material any other description, for indeed Oris stands for nothing else but Heathen Black Metal.
What this album brings is highly melodic and epic Black Metal with quite some Pagan-oriented touches. At the one hand, there is quite some melody, instead of pure chaos. That seems to be a trademark for the Vacula-label, by the way. Raggradarh's material may lack of those extreme outbursts à la the Raw Black current, but it is at least as impressive and forceful. The melodies are of a highly epic level, and I dare to say that Bathory, Enslaved or even Windir might have been of inspiration. But in general, the approach indeed comes pretty close to the general East-European essence, going for both sound and execution. However, that 'sound' is little too 'weak', unfortunately, with a mix that unfortunately does not represent every single instrumental aspect. But seen the core of this project, this isn't but a minor detail. Besides, the production isn't that inferior, just somewhat underdone. Example: the quasi-shamanistic choirs on The Doomed Ones do sound way too hollow, too empty. A shame, for that could have been killer stuff. Unfortunately, it is not. But the most important thing is the result's quality, and that is more than just all right. Okay, it's not that Raggradarh have the intention to renew the scene; why should they anyway. No, what Erilyne does with this project is paying tribute to the Old Gods by means of proud and epic melodies, heavily rooted in Slavic pride and Nineties-tributing glory. Intense excerpts smoothly interact with traditional ones, and that equilibrium makes sure that such lengthy songs don't fade away in oblivion.
Highlight for sure is the last track, The Dead Pride, also the longest one on this album. It sort of collects everything that did pass the revue by means of the three other compositions. Second Wave-alike, post-bathorian excerpts victoriously interact with the paganised structures from some bands from the Baltic countries, Finland or Ukraine. But more than before, the persuasion shines beyond any level of darkness. The former tracks could please me; this one is truly satisfying. Besides, it's the most varying piece to date; listen for example to that different intermezzo at about five minutes, with somewhat oriental-sounding guitar melodies, fine-tuned eccentric bass lines and, eventually, quasi prog-jazzy drum patterns… Believe it or not (I do not care anyway), but Absu come to mind…
I have to admit that I miss something in Raggradarh's approach that might lift them up to eternal glory. Once again, I do not want to be negative, because the result is satisfying – yet not convincing within the strong scene nowadays. Of course that's irrelevant, because tracks of this length that lack boredom or annoy must be praised. So, I do not think it is unfair to give Raggradarh the benefit of doubt. But more deepness in the compositions, and a more professional sound might have quite a positive effect. Something to consider, to think about…