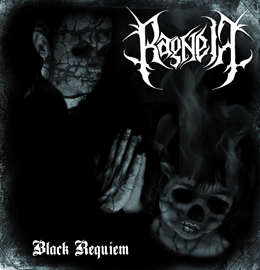 Ragnell are a young Mexican collective with one single official recording on their name: Black Requiem, released via one of the strongest Russian labels, Satanath Records. Black Requiem clocks less than half an hour, and it was recorded by the trio Eduardo (b, v), Carlo (d) and Mauricio (g, v) in early 2013.
What this EP brings is an energetic, melodic and obscure form of Black / Death Metal. First of all it's the sound that strikes me. Though it is not that decent or clean, it isn't messy either. On the contrary, the anti-pulpy massiveness of the production empowers the final aural result. I also like the great song writing and ditto performance. It's filled with variation in structure and speed, including straight-forward rhythmic outburst, melodious integrity (what's in a word…) and timeless compositions, balancing in between traditional essence and timeless ear play.
The band tries to get away from the standard, and they succeed to do so. Throughout their creations, Ragnell try to invent self-created pieces whatsoever, however without trying to be progressive, experimental or über-modern. It's just that they are willing to, and capable at adding some highly interesting and distinctive excerpt, like at the end of Soaked In The Blood Of Blasphemy.
If this is some omen to an upcoming full length, then I want to be under the spell of Ragnell! Interesting piece of aural evilness!