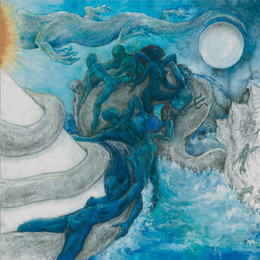 Album Title:
The Quest For The Vajra Of Shadows
Finnish duo Rahu (with Devilry's Kobalt on vocals and drums, and bass / guitar player Miikka 'Atvar' Rautiainen, known from e.g. Venus Star, Circle Of Ouroborus, Verivala and Vordr) return with their first official full length studio recording. Via current label Ahdistuksen Aihio Productions they released an untitled album in 2010, but this was a compilation with both demos they did during last decade, and therefore not a 'real' studio record. The material was originally released in 2012 as 12"EP, and now it will be available as CD-edition.
The five tracks last in between six and ten minutes, clocking a total running time of (just over) forty minutes. Lyrically, they deal with Vedic and Hindu themes (the band's name, by the way, is taken from Hindu mythology; 'rahu' is the snake that swallowed the sun and the moon). But musically it stands far away from Hindu shamanism or Tibetan chants. No, what Rahu bring is a freezing, eerie and atmospheric form of somewhat traditional (read: Nordic-styled) Black Metal with a Northern approach (think: Norway, Finland, Canada). Because of the sound quality at the one hand (but: the production could have been done better!), and the repetitive structures, The Quest For The Vajra Of Shadows has something hypnotic, and the synth-y additions give the whole a creepy so(m)berness too. And that balance in between the traditional rawness at the one hand, and the mesmerizing Ambient-spheres at the other hand, is in quasi-perfect equilibrium. This goes as well for the speed and structures: faster parts interact with slower ones, and epic grimness with melancholic integrity. The tremolo pickings go well with the pounding rhythm section, and the distantly-hollow screams add a touch of despair and unhappiness (makes me happy!). And despite the pretty lengthy duration of each track, the repetitiveness and the oppressive atmosphere, The Quest For The Vajra Of Shadows does not annoy the listener (at least: the dark-minded souls amongst us) at all.
The roster of labels like Hammer Of Hate, Moribund, Northern Heritage, Sepulchral and Debemur Morti might be a reference, if you want to…