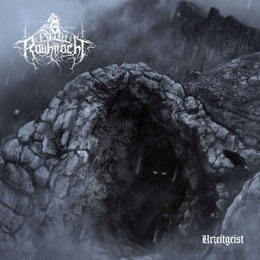 Austrian act Rauhnåcht was put to life by Stefan 'Dreamlord' Traunmüller, who's (currently and previously) known, as musician, for bands and projects like Golden Dawn, Apeiron, Wallachia, Sternenstaub or Alastor, and who's very active as producer / master / mixer / engineer for tens of (mainly Austrian) Metal acts too. With Rauhnåcht, he released a first album called Vorweltschweigen in 2010 (which I haven't heard yet, so I cannot compare nor judge), but the bio we did receive on this new album says that the debut 'paved the path, but was only an indication of greater things to come'. This sophomore full length, Urzeitgeist, is an extended edition of the 2012's same-called EP, which was originally released via Sturmklang, including three new tracks. However, this EP was released in an extremely limited format at live gigs only. Besides, there was another EP in 2012 (Waldeinsamkeit, via the very same label) and a split with Sturmpercht.
Urzeitgeist consists of seven tracks that last in between five and ten minutes (total running time: fifty six minutes). It brings a melodic, epic, orchestral and rhythmic form of Black Metal with attention for symphonic-bombastic passages, atmospheric excerpts, traditional Epic / Viking / Folk-parts, fierce and thrashing outbursts, obscure Doom-laden interventions, and grim, eerie waves of occult-atmospheric obscurity. The changes in tempo are nicely balanced, and so are the transitions in between. The production is extremely 'full', i.e. massive and bombastic, yet it certainly exhales a raw, somewhat primitive spirit, drenching the whole in an otherworldly dimension of unbound timelessness. And there's more: the addition of acoustic passages, harmonious chants (very Falkenbach-alike), colossally-muscled orchestrations (with hints of Summoning), and so on; all aspects that glorify this effort.
Urzeitgeist is a grow-album, I mean that you need to listen several times to capture the whole aural journey. But it is worth to hold on, because the result is a convinced recommendation if you prefer to hear your blackened sounds the decadent way!