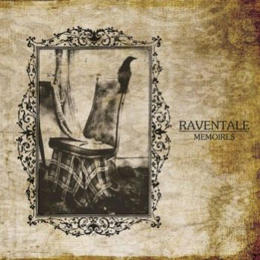 Release Date:
Thursday, August 21, 2014
This time I am not going to spent too much time on the introduction of a band / project (the latter, in Raventale's case), because 1) I am too lazy right now (not really, but I just wanted to make a statement) and 2) this is a review that deals with a compilation and not a 'real' recording. So I'll keep it short: Raventale rules!
No, seriously, Raventale is one of the projects Astaroth Merc is involved with, and I do follow them since the very beginning. There are several one-man projects in Ukraine, but this one for sure is one of the greatest, at least to my humble opinion. Next year Raventale will celebrate their tenth anniversary, but the birthday party already starts right now with this compilation, which isn't just a collection of tracks simply taken from one of the sublime albums. No, Mémoires compiles quite an impressive number of tracks re-recorded especially for this release.
Raventale bring melodic, pretty slow and highly atmospheric, little paganised Black Metal with nothing but I-love-it elements. The songs consists of superior, little repetitive riffs, grandiose and monumental rhythms, sublime atmospheric keyboard lines (covering the whole in a veil of modest yet well-deserved victory), majestic vocals, etc. In each single case (i.e. truly every single composition), the general mood grabs you by the balls… the throat, I mean, without being aggressive, and not without losing to express a certain epic pride either. And the superior approach goes for, well, almost every detail: sound (super production!), composition / song writing, performance… Even on this compilation there is a coherence untold, a purest expression of Astaroth's view on semi-emotive (not: depressive, suicidal or neo-romantic) and fierce (not: warlike, misanthropic or national-socialistic) craftsmanship and creativity.
Everyone, and I really mean every single human or quasi-human entity, who prefers his or her aural sounds the dark-atmospheric yet intense way, lacking trendy additives and / or catchy fantasies, will adore - and so on, and so on… You know, don't you?...!