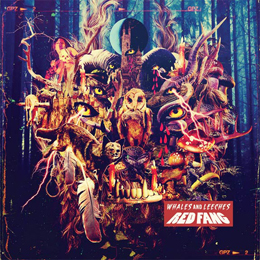 Red Fang entered the game in 2009 with their self titled debut, formed by Bryan G., Aaron B., David S., John S., quickly establishing themselves on the world's underground scene as a powerful riff machine. Early shows with Helmet and Crowbar gained respect from crouds, press and peers alike, showcasing a fresh, soulful and high octane live rock experience
"Crows in swine" and "Dawn rising" with Yob-frontman Mike Scheidt as guest singer sounds as if it was a draft taken off the The Melvins Revolver songbook, "Failure" is more Sabbath influenced and "1516" and "Blood like cream" presents the Motorhead / Black Flag/ Mastodon influence in full exposure. Yep, highly-amped, crashing guitars playing rather simple chords, pounding rhythms, scream-ish and clean vocals and 70s licks and tricks are found here in heavy doses.
Having already pointed out the most obvious influences, I can only add that the rest of the tracks balance between them, by tuning the vocals and guitar-work to lean towards one or the other, with not much originality but with a lot of eager brutal force.