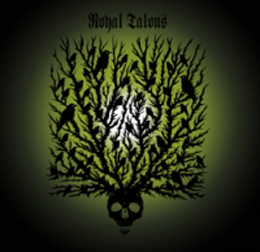 Denver-based band Royal Talons debut with a self-called album that presents five tracks that last for forty six minutes. And honestly, this might be one of the most impressing debuts I've heard this year.
Royal Talons bring a firm, heavy, rather obscure and oppressive mixture of Sludge, Post-Punk, Stoner and Doom Metal with an own face. The whole sounds somewhat psychedelic, hypnotic and gloomy, with an experimental base to reveal tradition and creativity at once.
All separate parts are not the most renewing once at all, yet the general effort goes much further than its simple components - not that unusual within this genre, yet not often concretised this persuasive and professional - for sure.
Every detail is more than acceptable: the vocals, the guitar lines, the melodic structures, the firm rhythm section, the haunting atmosphere, the massive production and so on; it just seems to fit, and therefore this album is worth every single minute. Nasty yet brave! This is an experience beyond imagination, rooted in American tradition, yet trespassing narrow-minded boundaries.
Grief, Sleep, Burning Grief, Unearthly Trance, Teeth Of Lions Rule The Divine, OM, Huata, Rwake, Ramesses, and even Amebix and Axegrinder (!!!), it's just a direction, a hint…