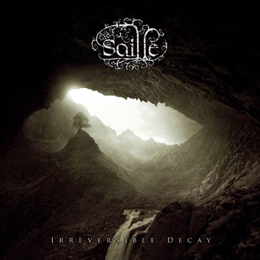 Release Date:
Friday, December 14, 2012
That's such a pity - at least for / to me.
Nowadays, thanks to the constantly growing sickness called 'downloadable copies', most labels do send us but an i-pooled edition of new material, most of the time a couple of days / Weeks after the actual release of the new stuff. I can spit my bile endlessly but I'll spare you th…, no, I'll save my own time and energy.
Only very, very sporadically some label does send us 'real' albums, i.e. not an i-pooled version, or a promotional copy in a cardboard sleeve. Well, recently we did receive a CD in its merchantable version, scilicet Morbid Management offered us Saille's debut full length, Irreversible Decay, released through Aural Music / Code666.
So, what's my problem? I did f*ckin' buy this album myself when it was originally released in 2011, for my Personal Goddesses sake.
[lots more self-pity, irritation, covered by loads of self-censorship, to avoid … and bla bla bla à volonté]
Reason for this promotion: 2013 will see the release of the sophomore Saille-album (I do hope we will have the honour to have a full-disk once again?!).
Yet honestly, I do look forward to hear the second studio recording by this unhappy combo, because, let's be honest and serious (at least just for a little while): Irreversible Decay surely is/was a more-than-just-acceptable effort, not?!
I won't endlessly (even not limitedly) elaborate 'bout that 2011-full length, because it's the next one we'll be waiting for - those who will have the honour to listen to the second one, will surely buy, or steal, the first one as well, if only that second full length reaches, at least, the niveau of the debut.
What I will add, about that debut full length, is this: it certainly and undoubtedly is a recommendation for all fans of grim and rhythmic, rough and epic, yet also harmonic, melodic and universal / timeless Black Metal.
[I don't think I did a review about this album for Concreteweb, and so did no one as a matter of fact, but believe me if I say it's a recommendation: see the former paragraph]
[the score below, just for fun, yet based on my personal, though selectively subjective opinion]