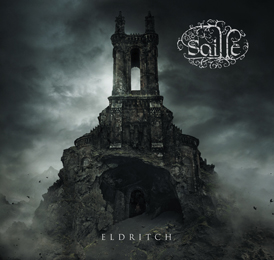 Release Date:
Monday, November 10, 2014
One of Belgium's finest (in quite an impressive list of splendid bands and projects, of course) must be Saille, once formed by Dries Gaerdelen in order to pay tribute to bands like Keep Of Kalessin, Tartaros and Limbonic Art. The band recorded two fabulous albums before, Irreversible Decay (2010) and Ritu (2012), both of them released via Code666. They were also able to perform live on stage on great festivals, and / or with the likes of bands like Mayhem, Winterfylleth, Belphegor, Aborted, Asphyx, Marduk and so on.
The quintet recorded this third full length with studio assistance of Klas Blomgren, who assisted in the realisation of several projects of Christian 'Draug' Larsson  (Acacia, Svart and Gloson), and once again it gets done via Code666, with the why-changing-a-winning-team-idea in mind. Why not indeed…
Anyway, Eldritch (which means something like sinister or ghostly) lasts for fifty six minutes and goes on, of course, in the vein of both former albums. The album collects nine fast and powerful hymns, which are based on the tradition of (timeless and universal) Black Metal with, indeed several aspects that refer to the cosmic-orchestral majesty of early Keep Of Kalessin, Limbonic Art, Tartaros and the likes. Other band or projects that might come to mind are Dimmu Borgir (late nineties / early 2000's era), Imperial Vengeance or Vesania, but I don't think Emperor or Rhymes Of Destruction would be strange names within this list either. At least this stuff is extremely intense and energetic, mainly based on harsh and brutal, though melodic riffs and impulsive rhythms, in combination with the permanent injection of prominent and profound keyboard lines. Despite the highly-energetic approach, Saille know how to keep your attention, by having quite some variation too. It does not necessarily go for the tempo, because the better part is blast-beated. But once in a while there are nice intermezzi and atmospheric excerpts, showing the creativity of this Belgian horde. Also the epic execution and the colossal and gargantuan sound production are surpluses. And hey, isn't that a brass section in Eater Of Worlds?...