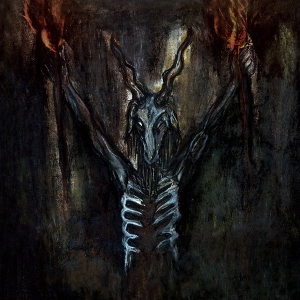 Release Date:
Thursday, November 19, 2015
Superbia – avataria – luxuria – invidia – gula – ira – acedia… Who is not craving for all these pleasures of life?... And if you take the first letter of each sinful joy, you'll have 'saligia', which is the name as well for a project by Ghastly. At the end of last decade there were some demonstrational recordings, amongst which the promotional demo Sic Transit Mundi, and under the very same title, Norwegian act Saligia released a first vinyl album in Autumn 2011 via U.K.-based label Barghest. That release has now been re-issued on tape as a first release for the new Germany-based label No Return, though this one being limited to an edition of 50 (fifty) copies only!
This single-sided cassette edition (there are no bonus tracks in comparison to the original 12"LP) brings over forty minutes of raw, unpolished, uncompromising and warlike Black Metal, heavily rooted in the tradition of the nineties' scene. The main structures are based on heavily pounding rhythms and melodious, somewhat epic riffs, with a fine equilibrium in between slower and faster parts. Though, the main structures are quite simplistic and one-dimensional, lacking of experience and hi-fi techniques. But that's up to you, dearest listener, to decide whether that's a problem or a blessing. Actually it represents the essence of the Second Wave, and who are you to disapprove such thing… Vocally, Ghastly does not exactly come with a 'deep' growl or scream à la 'Black Metal', yet with a rather yelling voice that isn't that unusual in the east of Europe. Only once in a while his screams are brain-piercing, and moreover, there are even some frostian 'uh's.
Despite lacking 'originality' (once again; f*ck it!), each single composition has something remarkable, something to offer. Whether it's a riff, a change in tempo or structure, a hook, a specific melody, whatever; in each case you will detect something special that strengthens the quality of quite a 'classic'-sounding album.
The sound quality is, unfortunately, below acceptance. I like the shrieking guitar riffs, and I adore the fact that the great drums are quite at the foreground. But I can't barely hear the bass lines and rhythm guitar assistance, and the final production is way too stripped-down, too thin, too airy. It is not an insuperable 'problem' seen the specific stylistic direction that Saligia pursue, yet even an adept like me misses elegance and that tiny little thing that would surely uplift the result.
FFO: everything in between earlier Tangorodrim, Craft, Dødsengel or Akerbeltz, I think…