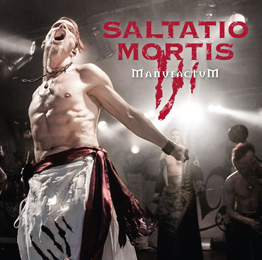 Album Title:
Manufactum III – Live Auf Dem Mittelaltermarkt
Manufactum III is another live-album (after I and II, but I guess you're smart enough to find it out yourself), captured in front of about 8,000 wild fans during a gig in Hamburg, Germany.
Pros: wonderful sound! There is nothing that bothers when it comes to the sound. It is just like it has been registered in a few hundreds of takes in a professional studio, then enriched with the enthusiastic support of a couple of thousands of fans. Another pro: the instrumental part of the deal. My personal appreciation goes to the bag pipes and percussion parts
Another one? What to think about the great atmosphere? The splendid interaction between the band and the crowd? It must have been a hell of a party out there… And to heat the fire some more: the choice of the tracks. Some taken from the latest album, of course, yet a few 'popular singalongs' too from the past. Why not?
Cons (but that isn't but personal): those irritating vocals… It gives me goosebumps, bah. And another (personal view) failure: the fake happiness of the whole. Yet again, it does fit to this Party Metal Music… My score will focus on the positive aspects chiefly. FYI: the new Saltatio Mortis-album will be titled Das Schwarze Einmaleins and will be released in August.