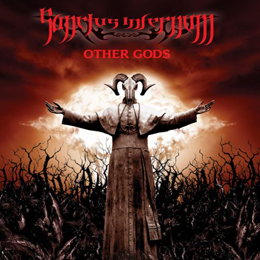 Sanctus Infernum were formed in 2005 in Kansas, and they had two full lengths done at the end of last decade: their self-called debut in 2008, and Martyr in 2009. Then things went silent for quite some time, but now the band finally returns with their third full length, which is Other Gods.
This new album was recorded at the Bulletride Productions studio, and produced, engineered, mastered and mixed by Dustin Ridder (guitar player Mark Anderson, who also did the bass parts since Sanctus Infernum's former bassist left, co-produced the album). Other Gods is dedicated to Howard Phillips Lovecraft and inspired by his (legendary) works.
Other Gods brings an unusual mixture of Death, Dark, Black and Doom Metal. It's filled with acceptable contrasts, but really cohesively executed; the structures of the tracks are a perfect example of this statement. Slowed-down rhythms interfere with modern melodies, fabulous twin leads, fierce solos and pushing structures, accompanied by deep-throated, belly'ish grunts and little weird leads. The back-structures are timeless, even traditionally old-styled, but the final performance is very modern in execution. I am not talking about the production; though this one too is very modern in every single aspect (sound and mix). Yet Sanctus Infernum maintain to have their material sound enormously catchy. I think they are the most catchy combo on Satanath's roster. The addition of electronic intermezzos, clean voices, semi-acoustic excerpts and quasi-poppy melody lines strengthen this opinion. But what I think that is very positive in this case, is that Other Gods (almost) never sounds predictable at the one hand (the variation in between the different melodious structures and the many tempo-changes, for example, proof this), not too cheap and 'easy' either at the other hand (and then I want to refer to the contrasting guitar lines (both leads and rhythms), the use of the different synth melodies, or the unique interactions in speed (with a focus on slow-paced melodies in general).
And with the last track, Dream-quest, Sanctus Infernum go even further, by injecting their distinctive approach with a couple of, well, soundgardenish elements. …very modernised, but for once even appreciated by undersigned!