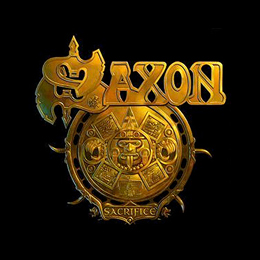 Release Date:
Friday, February 22, 2013
Saxon is one of those bands who've been around for so long, are liked by most metalheads, yet never managed to achieve the same breakthrough bands like Iron Maiden of Judas Priest were able to.  They also made part of the NWOBHM scene, and despite a dip in the late eighties that lasted into the early nineties, have since regained their strength and are churning out album after album.
As with previous albums, expect no major changes in their music.  They stick to their trusty  recipe, but compared to their previous studio album, the 2011 'Call To Arms' album, this album sounds just a tad heavier.
Despite being a sexagenarian Biff's voice still sounds as strong as twenty or even thirty years ago, and even if this album lacks a song that immediately fits into your head, something which songs like '747 (Strangers In The Night)' or 'The Eagle Has Landed', to name but two (there are of course others, but I cannot mention them all), all tracks on this album are of a very high quality.  Special mention should also go to the other musicians, who've done their utmost best to make sure this is a Saxon album that will be remembered.
If you buy the album you also get a bonus disc, with new, or rather re-recorded or acoustic versions of some of their older songs, and an orchestrated version of 'Crusader'.