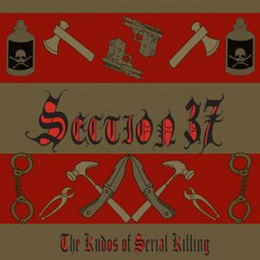 Album Title:
The Kudos Of Serial Killing
Release Date:
Saturday, February 28, 2015
I was extremely confused when I listened to The Kudos Of Serial Killing the first time, and actually, right now, listening to this album for the third time, I am still brain-twisted. And when I read some info about this project on Aesthetic Death's home page, it didn't quite help me to understand what was going on. But I think it's charming to be submerged to the unexpected.
Actually, Section 37 seem to be quite an 'old' project by Stuart J Harris aka SJH, whose ideas and concepts for this project started somewhere in the earliest eighties (!). However, there were no aural realizations for quite some time, until Stuart teamed up with Jim Kirkwood, author of Critical Mass (hey, isn't that the title for another Aesthetic Death-album, being the debut for Lysergene? Coincidence or not?), and active as musician within the Electro-scene. This collaboration resulted in two albums, The Order Of Confirmation and A Prayer For A Sick Child. The latter however was done especially with Stuart and Cevin Moore, with Jim still being involved, yet not that intensively from the aural side anymore. Apparently there will be a third part too in some future, but that is something of non-importance right now.
Stuart and Cevin started writing new material, inspired by the thoughts and deeds of serial killers. It has been done before, especially within the Grind / Metal scene, but within the Electro-genre it must be quite renewing. Their first effort, called The Kudos Of Serial Killing, was initially released in 2003 via Severed Spine. Then things went quite silent, with Cevin deciding to quite this project. Stuart then, after a while, joined forces with John Frost, working on Legion (also for Aesthetic Death), but that too is another story…
The Kudos Of Serial Killing, and now we're focusing on the album itself, is a collection of EBM / Dark Electro Wave oriented pieces, quite 'danceable' and permanently interspersed with samples from stuff whatsoever. But there's quite some variation in between, for each piece, dedicated to a serial killer, gets expressed by a specific sound or approach, being rather Minimal Ambient, Ritual Electronic, Dark Wave Electro or just Electronic Body Music. But that might be both a blessing as a curse. I am sure many listeners / fans will adore this collection of electronized madness, but there will be quite some confused entities as well. And that's because of the enormously diverse execution: Nine Inch Nails, KMFDM, Hocico, Front Line Assembly, Die Krupps, later Project Pitchfork, Lustmord, Anne Clark, Skinny Puppy and many more – all of them pass the revue. The curse is that you might dislike several pieces on this album. The blessing is that some parts will be adored a lot, yet by die-hard adepts only. Why shouldn't you like, by the way, the remix on The Heptual, for example…
I know that I am 'but a reviewer' with an own subjective opinion. I really like some pieces that rather belong to my personal sonic world. But an album like The Kudos Of Serial Killing is something that makes you think, wonder, doubt about subjectivity, adoration, appreciation and self-relativation. I am afraid the result of those thoughts might not always be that pleasant. I'd rather refer to the soundtrack of the first The Crow motion picture, which seems to have heavier balls (or something like that).