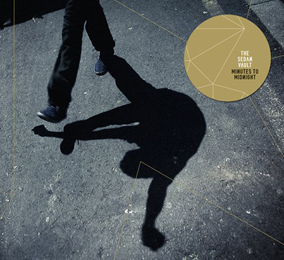 Jimminy creepers...has it really been...why yes, it hàs been nearly 6 years since the Sedan Vault released its previous album, 2008's Vanguard. So...what has been happening to the band over that time?
They were hailed as one of the revelations of the 2009 Eurosonic festival in Holland, and from there went on to play at such highly appreciated festivals as Pukkelpop, Lowlands, Dour and Groezrock, and started doing headline tours in homeland Belgium, at important Dutch and French venues, and extending their fanbase to places in Germany, Switzerland, and Luxembourg. Along the way, they got to play support shows for the likes of Ghinzu, Death Cab For Cutie, Mono, Front 242, The Mars Volta, and Sonic Youth. Quite some accomplishments, indeed. March 4, 2011 saw a limited edition re-issue of the Vanguard album (in Germany, Switzerland, Austria and England only) via the German Redfield Records, with Intro Magazine streaming the complete album prior to release...thus keeping the band in the news. March 2011 is also when the band announced that The SV member Marius Meeuwis (piano, keyboards, samples, vocals) had contributed music to a short film entitled Begin Van Het Einde, shot by young director Nelson Moens (find link to watch & listen in the "news" section at the band's own (www.) thesedanvault.com), and the month following the band did an electronic-acoustic session for Luxemburg's Radio DNR (which they posted on their SoundCloud page). Next up, Funtime Records (whom had released the band's 2006 mini-album Mardi Gras Of The Sisipha) collaborated with Converse to release a label sampler entitled Tales From The Pit, which featured the old The SV song "Black Waltz In White Shoes" (off said mini-album), again putting the band in the spotlight, as did a small Swiss tour in Autumn, and several Belgian support shows (for Battles, Shining and And So I Watch You From Afar), on which the band already introduced some ideas for new material.
2012 was spent mostly writing the new material, and in early 2013 the band traveled to London's RAK Studios to record the 10 tracks on this album with renowned producer Richard Woodward (whom you may know from his work with the likes of Radiohead and Arctic Monkeys amongst others). A premiere of the album was done at 2013's Pukkelpop festival, where it was found that the band had slimmed down to a trio! Originally, the album was set for an Autumn release, and so obviously some things got in the way. At any rate, eventually the band announced a 21 April release date, with a release party at Ancienne Belgique to go with it, and tickets for that show were sold out 4 months in advance...showing the kind of support the guys have from their Belgian fans!
When you'll hear the album, and you can stream the whole darned thing at the band's aforementioned own website (!), you'll not be surprised! Sure, it's an album which needs to be listened to several time in order to get all the things that are goin' on, but each session will convince you that what's on offer here is more than just your average contemporary Modern Rock album! According to the "personal information" on the band's facebook page, the new songs were inspired by songs of Noel Gallagher, Depeche Mode, Gorillaz and Jack White, and I dare say what The SV made of it far exceeds any possible expectations one might have! I have only one message : go stream that album now, and listen to it a couple of times in a row...you'll find my words not to be idle chatter, and most certainly you'll find yourselves with a strong desire to get a copy of the album! Oh yeah...definitely an addition to that "Best Albums Of 2014"-list of mine, no "nomination" involved at all! I mean, when I still hear new stuff after having listened to an album 5 times of more, there's no questioning of high quality being present...because I'm a rather demanding music fan, you know!