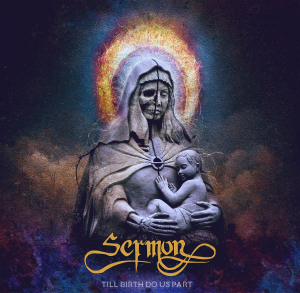 Release Date:
Friday, February 10, 2023
First of all: the exact release date for Turkey has not been confirmed yet. The initial worldwide one, February 10th 2023, got postponed out of respect for the devastating earthquake that took place recently in Turkey and Syria. Respect to you, guys from Sermon!
Till Death Do Us Part has nothing to do with the bible (book Genesis), although the band is called Sermon. It might seem evident, then again, that references to religion and philosophy are part of this combo's concepts. I had, in all honesty,  not heard about this act until last year, when band leader Cem Berut gave me the opportunity to listen to a three-track promo-EP, a kind of teaser for this full-length. And damn, I was convinced by this trio's qualities. Apparently, Sermon were active in between 1997 and 2004 or so, then split-up, yet Cem did reform the band in 2021.
Cem, Harun (also the vocalist of, for example, Forgotten [the Turkish one, evidently]) and Durmus finished eight songs in 2022, and as a full-length, it got pressed on compact-disc in order to be released via France's Bitume Productions. Earache Records collaborates to promote the digital distribution of the album, by the way. The album comes with very remarkable and stunning cover artwork (by some Marcus Ganahl), which refers, once more, to that critical-religious-oriented concept. The total running time clocks almost fifty-seven minutes, so you surely can imagine that the average length is pretty impressive.
As mentioned, I was surprised by what I heard last year. That three-track promo showed a mature and professional approach, and therefor I was impatient to hear the whole thing. Well, let's say that my enthusiasm after that promo-EP has not faded away at all. On the contrary…
The album starts with one of these three promotional pieces I already experienced before, so it is sort of subjective to start this album with, haha. No, seriously, I think that Posthumous indeed is a perfect opener for Till Death Do Us Part, for it shows a lot of what this band stands for. It's a traditional piece of Doom-Death, highly harmonious in result and technically well-skilled in execution. In the first place, it's a guitar-driven piece, with enchanting and hypnotic melodies and prominent solos and tremolo effort. That guitar-based orientation goes for the whole of the album, but it is important to notice the significance of the whole instrumentation. Without the pounding rhythm and bass guitars, and the extremely varying, prolific drum- and percussion-patterns (intense yet well-balanced), it wouldn't be nothing more than a guitar-track. But the symbiosis of the lead section and the whole rhythm assistance supervenes on a generous inclusiveness, a colossal 'totality' that refers to a mathematic question: whether the whole is more than the sum of its individual elements. The answer is as logic as it is true: indeed, the whole interplay is so much more than the different instrumental contributions, even-though these ones (all strings, keyboards, percussions, violins and voices) are all of a very professional level.
The keyboards and violins I just mentioned, well, they are modest in use. It's not that each song makes use of these instruments the whole of the time. But when implemented, it fits (once more). They push the basement of the concerned compositions towards sub-dimensions of elegance. I mean, even-though Sermon have not the intention to reinvent the wheel, they put their own stamp on a 'known' or 'trusted' form of Dark Aural Art. Okay, the violin within the opening sequence of Flawless Entropy breaths a purity reminiscent of My Dying Bride, for example. And the bombastic synth-symphonia in The Jupiterian Effect trespasses the borders with the rather Occult / Gothic scene. Yet then again, it's the collection of many nuances and additions that give the whole that distinctive, own-faced identity, adding elements from Gothic, Traditional, Funeral, Atmospheric and even semi-romantic Doom Metal in general.
Lead vocalist Harun has a very mature, deep grunt, knowing when to use it with a morbid timbre, then again applying it with a rather melodic subtlety, or filled with anger and / or grief and / or decadence. Besides, there are some spoken parts, clean and crooning voices, manipulated tones, and much more. This variety too has not been used to show how skilled he is; no, it fits, every time again, at the right moment. But it goes further, for the vocal timbres do accommodate very convincingly with the lyrics on Till Death Do Us Part. And last but not least, but the English tongue, the pronunciation, of Harun is very understandable and pure – no throaty murmuring or drossy mumbling. Important to mention is that the lyrics are quite in-depth in essence – not just moaning about loss and sadness – with certain excerpts based on poems by Monsieur Baudelaire.
The tempo, as you can imagine, is slow, with passages that dwell from funereal doomy, over ponderous to mid-tempo. No speed-up accelerations (maybe except for the industro-goth piece Gnostic Dissensus), no progressive breaks, no post-modernistic tempo-changes; it's Doom in all aspects. And because of the flawless production, this pace never becomes dull or lethargic. That production, by the way, shows a well-balanced mix in between all instruments and voices, yet at the very same time, it is not of a fakely exaggerated kind of surgical decency either; a hint of rawness captures the whole in an oppressive veil of obfuscated fortune.
A must, an absolute must, for all those who can appreciate everything in between earlier Paradise Lost, Katatonia, Saturnus, My Dying Bride, Swallow The Sun, Moonspell, Draconian and so on… …and at least as interesting and convincing!...
https://bitumeprods.bandcamp.com/album/till-birth-do-us-part
https://earache.lnk.to/TillBirthDoUsPart
https://www.concreteweb.be/reviews/sermon
https://www.youtube.com/watch?v=SenLEE6w4eA
https://www.facebook.com/sermonTR/