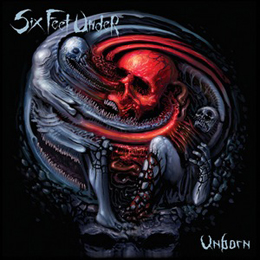 Unborn is the tenth full length studio album by Six Feet Under, in mean time, and it sounds as if these guys have the virility of a teenager. Experience pays, you see.
For a discography or history, I'd like to refer to the web for I'm too lazy right now. …had an extremely busy week, you see.
And why should I? Everybody knows Six Feet Under, once formed as a Cannibal Corpse side-project by Chris Barnes. It's this album that counts right now. And what can I say, purely objectively about it? It lasts for thirty six minutes, and was mixed and mastered at Planet Z by Chris 'Zeuss' Harris, whom you might know from his studio work with, for example, Suffocation, Kingdom Of Sorrow, Agnostic Front, Terror, Hatebreed etc.
The stuff on Unborn typifies the band, but again it did progress. Never before the songs were as firmly rooted in a timeless veil of melodic and groovy Death Metal avant and après la lettre. More than before, the songs are individually cohesive with the others, one-directional and straight ahead, yet with a permanently inherent pounding force. It does grab your attention from the very first moment to the last one for sure. No, of course this material does not open new gates to unexplored dimensions whatsoever. But again, Unborn redefines the essential basics of how innovation and tradition make sense. Does it make sense? Sensitive? Sensual? At least sensational!
Conclusion: one of Six Feet Under's strongest efforts to date, maybe their purest and most focused one (even though written with a handful of oh so friendly co-writers from other bands like Whitechapel and Torture Killer).