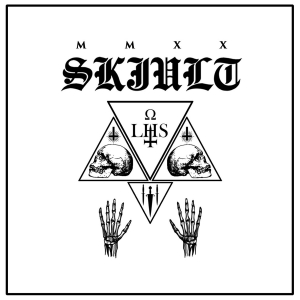 [a shorter review in a series to promote releases from 2020 / 2021 and to support the labels involved: Satanath Records / Symbol Of Domination Productions / GrimmDistribution]
I do not know many acts from Cuba, for it has a small yet somehow also a vivid scene. But Skjult surely is a project that I do follow since Aleksey from mighty Satanath Records once send me the Progenies Ov Light album (link for the review on that album: see below). For any additional info about the history and former discography of this one-man army, I'd like to refer to my former review too.
This new full-length album, called Lucifer Hominum Salvator, which can be translated like 'Lucifer saviour of man', gets released once again via former Russian label Satanath Records (nowadays located in Georgia!). It was recorded, produced, mixed and mastered during the first half of 2019, once more at the Havana-based Profane Misanthropic Craft Studio, and originally written, arranged and performed by the project's sole spirit, Conspirator (one of the most notorious and productive (Black) Metal musicians from Cuban soil). Also all visual art was created and finished out there (P.M.C. Designs). The compact-disc, being a 'normal' jewel-case edition, was printed in an edition of five-hundred copies, and does come with a six-page (and three-folded) booklet. This one includes the English lyrics and is rather 'simple' in visuals: black-and-white, with just one picture of the entity behind Skjult. …yet also with remarkable, unique cover-artwork, referring to the (conceptual and aural) ideas behind it: dark ceremonial and necromantic excellence for the glory of the Fallen Angel – the vigorous power of the Angel-Serpent.
Lucifer Hominum Salvator consists of eight titles, amongst which some instrumental pieces, clocking not less than forty-seven minutes. For the better part, it does continue the efforts from the past. Skjult pay tribute to the Second Wave, the glorious ages that put 'Black Metal' on a wider scale. But Skjult trespass the sound of the Nineties, for there surely is a self-invented, recognizable approach going on. Okay, it's quite clear that bands like Dark Funeral, Taake, Urgehal, Watain, Tsjuder, Enthroned or Dissection might have been of influence somehow. There's nothing wrong with that, at least as 1) the qualitative result reaches that of the aforementioned 'founders' of the scene and 2) the effort is not a simplistic copycat-alike thing. Well, in both cases Skjult succeed. This project has, as mentioned before, an own face, despite the clear sources of inspiration, and the quality of both song-writing and performance (and sound-quality; see further) are above average for sure.
In the vein of the past, the better part is pretty fast, with quite some up-tempo parts and several well-balanced blasts. Draped around a veil of melodicism, the rhythm-section (strings and (especially) the drum-work) strengthen the fierceness behind the fast-tempo excerpts. Take the opening sequence, for example (track: Lawless God): almost hypnotic tremolo leads, thundering double basses, grooving bass-lines, a pu(ni)shing rhythm guitar section; indeed, a bleak elegance of morbid disgust translated through sonic finesse. And then I did not mention the snarling throat yet, that intensive yet apposite voice of Conspirator, which fits perfectly to the expeditious structures.
A curious effect is that, despite a certain 'tradition' behind this stuff, there's also a modest Post-alike character behind several excerpts. It's the craft of the guitar-laden melodies that creates that timeless approach, once again perfectly in balance with the universal fundaments. I think the voice too fits well to that specific approach.
What strikes me (in a positive way, for what it's worth) is that there are more slow-paced fragments / compositions this time. I think it was a surplus in the past, but on this release, Lucifer Hominum Salvator, the doomed compositions are rather notorious and outspoken. I do not talk about 'some slower excerpts'; I'd rather mention the deep-thought Doom-laden attitude that characterises epics like the title track, A Star Down Below and The Sight. Despite a slower tempo, these pieces do not give in to power, for they roar and overwhelm with conviction and intolerance. Oh, listen to these mighty drum-patterns, those seductive and sedative lead-melodies, and the lumbering rhythm-strings, besides the growling screams.
The sound-quality is extremely neat, full, almost saturated, yet still coarse in essence. That megalithic production gets intensified by the professional mix from this guy's recording studio in the capital city of Cuba, balancing in between sonic dignity and audible disrespect. I mean, it lacks any über-clinical exaggeration, but it does not sound too nebulous or maladjusted either. It benefits the totality with certainty!
(haha, apparently, this isn't such concise review at all, eventually…)
https://satanath.bandcamp.com/album/sat276-skjult-lucifer-hominum-salvator-2020
http://satanath.com/releases/item/sat276
https://www.concreteweb.be/reviews/skjult
http://www.kristallblutrecords.com/shop/
https://www.facebook.com/BMPDRecords/