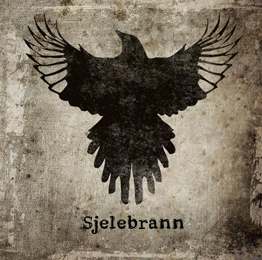 Release Date:
Monday, September 1, 2014
Skrømt are a pretty young band (formed in 2011), originally acting as a trio, and now being a quartet. In the beginning Skrømt were meant to be a hobby-project to the members' other bands (like Lotus, Slug Syndicate or Fatal Frequency). Very recently they recorded their first album, which was originally meant to be a demonstrational recording. The recording sessions took place in their home studio, called Dark Studio, and both mixing and mastering were done by Kjetil Ottersen of Vestige Of Virtue / Omit / Vagrant God / Funeral / Fallen-fame.
With Sjelebrann, Skrømt bring little adventurous, experimental Black-oriented Metal with a profound Pagan / Epic execution. The album brings a collection of mid-tempo hymns with attention for tradition at the one hand, and very specific self-created things at the other. And then I am referring to, for example, the sometimes weird intermezzos (that's clear as from the very first track [the introduction excepted], Sorg, for example), or the use of Tuba (!). And believe me if I say that this does fit! Other weird things appear throughout the whole album, yet never things turn too experimental or towards the Progressive, yet for sure Skrømt know how to put their own mark on their Music. Syk, for example, comes with vocals that differ from the usual Black-scene, including harmonious chants and semi-whispered spoken words. Also the acoustics are different from what we're used to. Slumsøstre has nothing to do with Black Metal an sich, but it contains acoustic excerpts and female vocals (by Iselin D. Fredriksen; she also returns in Spirer I Stein, by the way), and within the heavier parts (the introduction is more sober) I'd rather refer to Folk / Pagan Metal with a Finnish or Baltic tradition. There are even hints of Avant-garde in this track, and the bass lines, especially towards the end, are at least as unusual as they are melodic (or is it that Tuba once again?). A couple of times atmospheric synths do accompany the whole, adding a subtle touch of mysticism, but the band goes further, cf. the operatic part at the end of Spirer I Stein amongst others. Being a Black Metal adept for (almost) three decades, I will express my appreciation for some parts on this album specifically (like specific excerpts of Skjære), but I won't call Skrømt a traditional Black band at all.
For a debut, Sjelebrann is remarkably interesting, yet it does not deeply convince me (yet). The lack of coherence bothers from time to time, and I have the impression that the members should better spend their time and energy in deepening into their material somewhat longer, instead of recording and releasing this stuff too soon. But there's no doubt about the best intentions, great ideas, and nice craftsmanship, so my guess is that their next opus will be a killer (at least if they do consider to take time for introspection!).