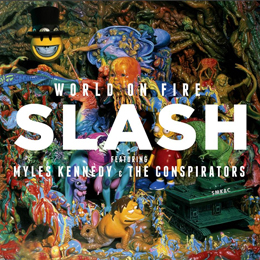 Release Date:
Tuesday, September 16, 2014
Third studio album released under his own name, with the help of Myles Kennedy, vocalist of Alter Bridge and The Conspirators as accompanying band.   And once again Mister Saul Hudson, a.k.a. Slash once again proves what a gifted musician he was, and still is.
Not only is this man a prolific guitarist, after all his guitar solo in 'November Rain' was ranked n° 6 on the 2008 list 'The 100 Greatest Guitar Solo's' by Guitar World, but he also can write decent songs.  On top of that The Conspirators also put in a decent effort, and of course the vocal performance of Myles Kennedy is also phenomenal.  In an interview Slash even mentioned that he was feeling as if this project was becoming more and more a real band.
In times of economic recession, it's also worth mentioning that buying this album gives you real value for your money. With 17 songs, it gives you a playing time of around 80 minutes.  And not one track is a filler, although not all tracks are killers.  But, if you're into good quality, old fashioned hard rock and heavy metal you should buy this album.  Forget Guns N'Roses, here's Slash to take ovr their torch.
Also worth mentioning is the artwork on the CD, which is highly original and features some Simpsons Figures. My opinion: this is one of the best CD's of 2014 I've listened to so far.