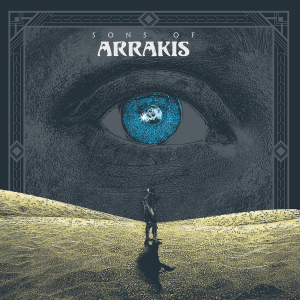 Release Date:
Tuesday, October 25, 2022
Once in a while, a Stoner act surprises me, out of the blue (cheese?). That's why I want to spent some words of the debut album by Sons Of Arrakis, called Volume I. This band was formed in 2019, created to pay tribute to Frank Herbert, and his Dune series at the first place. And I do not know anymore where I got this from, but somewhere I wrote down that the band define their stuff as different from 'the vast sea of Stoner Rock bands with their lightning Armor-piercing torpedo', performing 'Melange Rock and Cinematographic Sci-Fi Rock'.
In the early years, founding member Frédéric Couture started writing some material that was slightly different from his main band, The Hazytones. Throughout the following months / years, other musicians joined, and a couple of tracks made it as single via digital sources. And gave the band the opportunity as well to perform live on stage, especially within the scene from Montreal, Canada, where they originate from. Eventually they entered the Gamma Recording Studio in order to prepare and finish their debut. Frédéric took care of the production duties himself, while being assisted by Samuel Gemme, who he knew from his assistance with The Hazytones, for the mix. The whole got finally mastered at the Trillium Sound Mastering Studio by Richard Addison.
Volume I initially saw the light on July 15th 2022, if I am not mistaken, independently released at first. Soon after however, Sons Of Arrakis and Careless Records from Kazakhstan (!) decided to collaborate for further physical release-support. And right now, one might find this material on compact-disc (limited jewel-case edition), on vinyl (two formats: black and blue), and on tape (via Riff Merchant Records, if I am not mistaken). It comes with truly cool cover-artwork, referring to the Dune saga somehow, created by Alexandre Goulet, whose work you might recognize from material by e.g. Wake (the Canadian one), Duskwalker, All Out War or Despised Icon.
The album, which includes the previously released digital singles, clocks half an hour, and it consists of eight titles (intro and outro included). It has a very consistent approach, with fuzzy grooves, heavy rhythms and hazy structures in general. It mixes elements from Doom Metal, Stoner and Groove Rock, seen from a timeless point of view, yet surely with an inspiration that is based on the Old School. It would be way too easy to mention Black Sabbath as source of imagination; or is it inventiveness. No, seriously, the likes of Black Sabbath or Sleep are quite evident, I guess, with that grooving attitude à la Kyuss or acts like The Sword. The whole is melodious in essence, fiercely based on intense guitar riffs with a melodious character, including mind-devastating leads and psychotropic solos (oh, how do I adore, for example, that six-string-caress at the end of Complete Obliteration) and twin-guitar works. That basement is so powerful and overwhelming, also caused by the monumental rhythm section. The latter consists of harsh and down-tuned rhythm and bass guitars, which nourish the melodic and harmonious constructions. The very different, almost own-faced drum- and percussion patterns too convincingly support the grooving melodies. Besides, the hazy voices, pure and dainty (and damn, but these vocal cords are of the alluring kind), give a boost to the psychedelic core that typifies the underlying arrangements.
A delicate feeling I do have is that all compositions sort of are connected. Yeah, coherence is a thing necessary to esteem an album, I think; but here that interrelation is as organic as it is fertile. This gets caused as well by the top-notch recording qualities, i.e. the nice sound-classification courtesy of a professional production and mix. There is that flawlessly executed equilibrium in between all instruments (vocals included), yet adorable is the preservation of a slightly rough-edged, sludgy savor. That fuzzy approach is something that enriches the Doom-laden refinement, but it endorses the sci-fi concept as well.
For fans of: Black Sabbath (a general comparison, I admit), Weedeater, The Sword, Wo Fat, Sleep, Telekinetic Yeti, Red Fang or even Bongzilla; and why not, acts like Soundgarden, Melvins or Kyuss in some open-minded mentality might pass by as well.
https://sonsofarrakis.bandcamp.com/album/volume-i