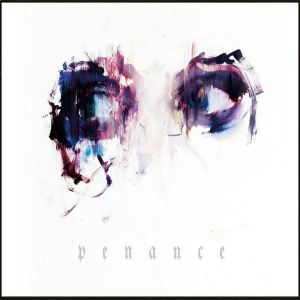 Release Date:
Friday, December 21, 2018
(another older release, once again deeply deserving any additional support, going for both the band as well as the label involved!!!)
I do follow the Scottish act Of Spire & Throne for quite some time and they did never disappoint me. I did write and post a review in the past on the album Sanctum In The Light (also released via the fabulous, and I mean fa-bu-lous, label Aesthetic Death), and even though this recording, Penance, is not a recently released one (yet until now it is this band's latest one), it does deserve any extra support / promotion for sure.
Penance is, officially, the second full-length of this Edinburgh-based trio (they did have some EP's and a split too), being released once more via Aesthetic Death on compact disc. That CD-edition is a three-folded digipack, which includes an eight-page booklet. That booklet comes with the texts, as well as frenzy artwork (which goes as well for the whole package) by Sarah Green (disturbing visual stuff, going well with the weird sonic execution, of course, and the psychotropic label). And for you, cassette-freaks around: there does exist a re-release as well via Ancient Entity Records.
Anyway, this material was recorded as from late 2016 until Summer 2017 with Stu Gordon (Chamber Studio and Wall Of Sound Studio), mixed in Winter 2017 up to Spring 2018 by Andrew Oswald (Secret Bathroom) and, eventually, mastered in Spring 2018 at the legendary Resonance Sound Studio by Dan Lowndes (Vile Apparition, Shades Of Deep Water, Desolate Shrine, Gnosis etc.). It was done by original members Ali Lauder (vocals and guitars) and Graham Stewart (drums, keyboards) and newly recruited Joe Turner (bass). The latter sort of replaces Matthew Davies, who still acts as 'guest' and co-writer on a limited number of tracks.
For more than one hour (!), Penance reflects, as the title suggests, about themes of introspection and self-reflection, regret and confidence, and the opposite of all of these subjects. And as from the opening track From Dust (which was originally written by ex-member Matthew), you'll notice that the band confidently and remorselessly goes on where Sanctum In The Light came to its (unfinished) end. A monumental and harsh guitar-wall, slowly-pounding yet devastating drum-rumblings and deep-toned basses create a dusty, ruinous landscape. This is Ultra-Sludge-Doom majesty from a monolithic source for sure. There are a couple of changing sequences, I mean some decelerated intermezzi, additional noises and stuff, making this first piece a skull-crusher to make the listener crave for more.
And that surely works, for Reliquary, the next track, goes further on this broken path, accompanying you deeper into that aforementioned landscape of desolation and ruin. Build around a mammoth-heavy structure, with low-tuned and ultra-slow 'melodies' (forgive me this specific description, for 'melodic' is like an alienated description), this piece is like a sluggish yet unstoppable wave of glowing lava, slowly crawling forward, leaving nothing unharmed or alive. The putrid ugliness gets strengthened by the vocals (amongst other things). At the one hand, you have those ultimately deep, guttural growls, rabid and infectious, breathing a fume of disgust, abhorrence and atrocity. Then there are these hoarse, throaty screams, raspy, scraping and repulsive, eulogizing every single negative emotion that might exist. Secede to me so that I may taste these fruits of all I've made, hold me down to choke upon the body of these rotten labours, resisting fallen wraiths in hostile whisper, a missive to grace, a revelation to a burdened soul…
With Their Shadow Cast, Of Spire & Throne focus even deeper on negativity, downfall, resentment and disregard, even-though from 'musical' point of view, it's little more, eh, how to put it, 'atmospheric' than the former 'song' (I admit: 'song', 'atmospheric', 'melodies', 'musical', a lot of words that are almost sarcastically defining certain aspects of this recording which I have no other descriptions for). Like a stronghold-on-wheels, roaring and rumbling, yet still created with many changes in structure and tempo – well, this too is almost a sardonically ironic approach, because 'changes in structure and tempo' actually refers to the modifications in between slow, ultra-slow, and ultra-ultra-slow-doomed-slow, you know, and from structural point I'm rather talking about the fine and delicate (here I go again) subtle innovations and excerpts, cf. that bass-laden chapter towards the end, the asphyxiating semi-solo (there is no other way to describe this), and so on.
I won't call Sorcerer a quiet piece, but the bleak, funereal attitude covers this Arctic track in a veil of inebriating, disconsolate fairness. The structure is minimal in execution, but the sound is archaic and unostentatiously rich despite that minimal, even nostalgic implementation. But there's a hidden beauty behind the ugly mask. Be sure that what will remain, will return.
With In The Wake, Of Spire & Throne once more return to the main ingredients of grinding sonic activities; ingredients resulting in a mush of sludgy decay, poured with blackened mucus and doomed viscera. …one's belly craves for more. The track gets overwhelmed by a gloomy, lurid, yet also mesmerizing fortitude. The leads especially have that hypnotising shade of transcendental dreaminess, with those belly'ish growls adding a flair of nightmare to the dream (making that fragile dream shatter like a balloon). Oh, those drum patterns towards the end (sorry, just being amazed once more by one of the many intriguing elements)…
The six-track album Penance ends with the tale of what hands tell, hehe. No, seriously, this blackish Sludge monster masochistically scathes the listener's eardrums, over and over again. The semi-acoustic intermezzo paints the whole in even more distinct aural – and mental – sadism, with those slow-rumbling strings and eerie synths. This part sort of opens a portal to the final dimension of knowledge, where wisdom reveals the protagonist's limitations, losses and uncertainties.
Penance is a very, very difficult album to handle. Those trusted with any former material of this band might know about the massiveness of this band's material, even realizing that it is less 'Stoner'-laden and lacking of explicit ambient or noisy fragments. This specific album is the harshest thing they did until now, I think, and it will result in a love-it-or-hate-it thing. But getting rid of blinkers and having some disturbed personal / mental twist, it might help to appreciate, even adore, these sixty-four minutes-long assault one man's psychic health.
https://aestheticdeath.bandcamp.com/album/penance
https://www.aestheticdeath.com/releases.php?mode=singleitem&albumid=3850
https://ofspireandthrone.bandcamp.com/album/penance
https://www.concreteweb.be/reviews/spire-throne