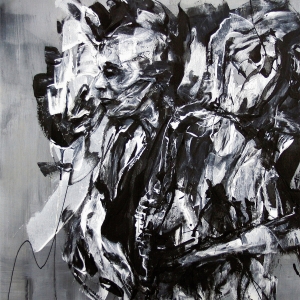 When notorious artists join forces to create something together, the result often surprises, but unfortunately it often stinks as well. When talking about the latter; too often the individual artists try to do their own thing, forgetting about the common result. But once in a while, such collaboration is a successful one too. That's the case with the new project Stromstad.
At the one hand you have Toni Myöhänen and Jasse Tuukki, who were (and still are?) the human beings behind STROM.ec. This Power Electronics duo are no stranger to Malignant Records, for they did release some full lengths via this American label before, as well as a collaboration with (mighty) Theologian, but their main activities took place ten – twenty years ago (Hubrizine, with Theologian, was like a resurrection). At the other hand, there's the notorious Norwegian musician Kristoffer Oustad, especially known from outfits like V:28, Suffering Bodies, Kristoffer Nyströms Orkester, Plague Machinery, or his self-named solo-project.
This trio worked together to create New Devoted Human, an eight-tracker with bizarre, surreal yet intriguing artwork. It gets released via Malignant Records once again, with assistance of STROM.ec's own label Neuroscan.org, via digital format, CD and vinyl (limited gatefold, 250 copies). The album lasts for almost thirty-seven minutes, and indeed there is a fine equilibrium in between all artists' typifying characteristics.
New Devoted Human is a very varied album, consisting of two extremes. There's a harsher side, and an atmospheric one. Okay, that's somewhat short-sighted, for it's not like dark and light, or left and right; but you'll notice a huge variety going on, permanently balancing in between both poles.
When talking about the heavier compositions, these ones need to be placed within spheres of malignant (oink) (Death) Industrial and the likes, often quite reminiscent of STROM.ec's empowered existence. Take opening track Inherent Resurrection, for instance, which mingles intense and harsh synthetics and self-repetitive pushing rhythms with foul vocal exclamations and some sort of ritualistic attitude in its melody. Yeah, 'melody', what's in a name – but I just want to make a point… In a hypnotic way, Stromstad sort of lift such piece up towards a unique level, for the equilibrium in between the impetuous steepness and the passionate hypnosis is truly remarkable. Reluctant Traveller is such a track too, based on arousing electronic devices especially. This specific track is filled with lots of other great ideas: vocal samples and spoken words, haunting synth lines, suffocative noises and gloomy guitars. It contains, by the way, a guest appearance of Enslaved's Grutle Kjelsson.
The 'opposite' finds inspiration in the world of Ambient and Drone. Nattsvermer is a good example. This track is like a floating Dark Ambient ballad with an icy and somewhat cinematic ethos, being at the same time inherently oppressive as well as chimerical. Kristoffer Nyströms Orkester is a comparison that not that far-fetched, I think. The last song too, called Kosto, shows another more integer and tranquil aspect of this project's creative intelligence. Kosto is a very melancholic neo-classical inspired piece of Dark Ambient, rather epic and semi-orchestral, which lies close to Kristoffer's self-called solo-outfit.
Some pieces hold the middle in between both extremes. Fever Wave Dream Function, for example, is like a post-apocalyptic ritual with a high-energetic background, injected with mesmerizing drone waves at the one hand, and neurotically executed electronic beats at the other, plus almost tribal drum patterns. Within a comparable vein lies the title track, balancing in between the extremities of abyssal and dystopian atmosphere à la, for example, Swartalf, and the eerie and ominous soundscapes like Abjection Ritual or Aderlating. Or what about Exchanging Eyes, expressing some Lovecraftian obscurity, as a paean for the Old Ones escaping their semi-eternal ice cellars.
New Devoted Human is an album that needs several listens. New Devoted Human is an album that deserves several listens too – no doubt about that – but seen the complex interplay of elements, it is recommended to struggle through this journey over and over again. But it has nothing but advantages. You will finally capture the essence of the album, you will surely enjoy it time after time, and it will continuously 'grow' for new details will get revealed.
I pray to my gods that this album was just a first one in a series of many, for the Stromstad project came up with a magnificent debut. More will follow, I hope!