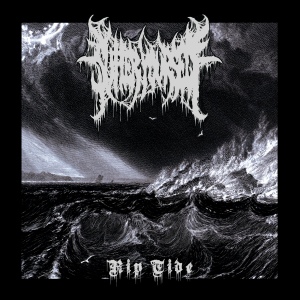 I did deeply adore the former albums Inner Sanctum and Ectoplasm by Suffer Yourself, a project from Poland, no, Ukraine, or is it Sweden? No, seriously, Suffer Yourself was formed a decade ago by Stanislav 'Hardman' Govorukha, originating from the Polish side of the Carpathian mountains, but who moved over to Kyiv a while ago. At that time, he was the sole musician under this outfit's moniker. After the debut Inner Sanctum, some musicians joined as permanent line-up members, and if I am not mistaken, they moved over to Sweden in the meantime. That's safer too nowadays…
But that's of no importance. Fact is that the successor of the debut, Ectoplasm, was even more impressive than the first full-length. But it got released at the end of 2016, and since then things seemed to dissolve into nothingness and oblivion. …such a long time…
But hey, here's when Stu and his marvellous Aesthetic Death roster enter the story. It is this magnificent label that takes care of the release of a third album by this (international) quartet, and this under the banner of Rip Tide. The material was written by frontman Stanislav aka S.G., who performs the lead vocals and guitar-work, assisted once more by the same line-up that did help him out on the former full-record, i.e. Johan Selleskog on bass-guitars, Lars Abrahamsson on six-string guitars, and Kateryna Osmuk on drums and percussions. The result got mastered by Aesthetic Death' devotee and knob-wizard Greg Chandler.
Besides the digital option, there are two physical ones too: a blue-coloured vinyl edition in an edition of two hundred copies, including a lyric sheet (the texts, by the way, are in English), and a digipack compact-disc, pressed in an edition of five hundred copies, three-folded and sober when it comes to the artwork. That black-and-white visual art too was coordinated by S.G., with the cover artwork being a small yet intelligently and aptly chosen fragment taken from J.M.W. Turner's The Mew Stone At The Entrance Of Plymouth Sound, Devonshire. That visual art refers to the nautical theme and the exalted relationship in between the massive power of the ocean and the fragility of man's life. Do not expect a Ahab clone, yet still Suffer Yourself do enter the realms of Nautik Funeral Doom.
Rip Tide is a three-track album, which starts with the lengthy piece (twenty minutes and some seconds) Spit In The Chasm. As from the opening string-sequence, it seems clearly evident that the band smoothly continues the mighty funereal effort of the former release. After a very short yet suffocative droning introduction, a thick layer of four- and six-stringed guitars, both rhythm and lead-oriented, paint a bleak, crepuscular murk, solid and ponderous at the basement, and interspersed by mesmerizing leads to focus on the intoxicating (anesthetized, relieved, tranquilized) hypnosis behind the melodies. Semi-acoustic strings join, adding a level of almost meditative introspection, eventually followed by those ultra-deep, bestial growls. The truly 'substantial' drum-work, the tremolo riffs, the acoustics, a hint of blackened throat-rape, the use of the cello (by some Jiro Yoshioka, nowadays residing in Germany) and the inebriating solos evolve, in a monolithically-colossal way, into a unique yet somewhat devastating experience. This is oh so powerful, deeply monumental in weight, and still levigating the sharp-edged hooks and corners. There is a permanent evolution, with so many differing elements and, at the same time, an incredibly convincing cohesion. Ultra-slow excerpts are spitefully interacting with faster (read: mid-tempo) fragments, mammoth-like riffs appear in a perfected balance with integer play, and rumbling drones get penetrated by fine-tuned acoustic chapters. It is as if you're incarcerated in an airless coffin, brutally waving on the surface of an endless sea, blind and deaf, gasping for oxygen, praying for the end without tears or regret, apathetic and even arrogant. It does not matter anymore who is free or who is dead. Candles fell asleep. Lid is nailed. It goes way beyond regret, depression, abstinence, suicidal thoughts or sorrow; it rather dwells within spheres of disgust, resentment, as well as anguish and torment.
Désir De Trépas Maritime (Au Bord De La Mer Je Veux Mourir) [desire of a maritime decease (at the bottom of the sea I want to die] clocks almost nine minutes and is instrumental, despite the use of spoken word samples. This track is a truly adventurous Doom epic, with a lot to experience: a huge variation in structure and tempo, with overwhelming Funeral Doom majesty versus neo-classical excerpts with droning synth-lines and acoustic strings (that cello once again…), hypnotic and mundane riffs and leads, gloomy percussion patterns, many samples (French-spoken narrations as well as the sound of wretched wood, gnashing doors and so on), elements from Dark Droning Ambient, and so on.
More of this droning ambience comes via the shorter (also instrumental) outro Submerging, which is performed exclusively for this release by Pavel Malyshkin aka Ugasanie. It's an ice-cold, oppressive, ominous, even asphyxiating work with a certain horrific character, perfectly closing this saga of death and the immeasurable aquatic / oceanic tenacity.
Rip Tide is, once again, a masterly written and executed work of insolent and dingy, almost voracious Begravningsdödsmetall, yet performed with a professional craftsmanship. With a sound both stalwart and level-headed, this latest effort by Suffer Yourself is nothing but a strongly recommended aural highlight, once again.
https://www.aestheticdeath.com/releases.php?mode=singleitem&albumid=5099
https://www.aestheticdeath.com/releases.php?mode=singleitem&albumid=5100
https://sufferyourself.bandcamp.com/album/rip-tide
https://www.concreteweb.be/reviews/suffer-yourself