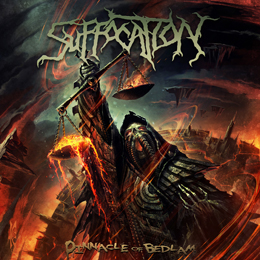 Release Date:
Friday, February 15, 2013
Suffocation, legendary, an influential monument, a deadly source of inspiration for the worldwide Death Metal scene. Formed twenty five years ago, and except for a five-year break, always on top of the international map. Still with some original members (Mullen, Marchais and Hobbs), and remarkable too: the return of drummer Dave Culross.
Pinnacle Of Bedlam, full length # 8, finalised with Zeuss (mix + mastering) and Joe Cincotta (production + engineering) again, and lasting for almost forty minutes. As from the opening track, "Cycles Of Suffering", on, it is over-clear that Suffocation are not intending to give in whatsoever. This first track on Pinnacle Of Bedlam does what we want to hear: harsh, fast and brutal grinding Death Metal with several tempo-changes, a technical approach, a sublime equilibrium in between the different instruments (the vocals included, of course), and the most evidently true, unadulterated USDM-spirit, the one that defines this specific sub-genre since the very beginning.
One might yammer about the ordinary simplicity (and it might be true) or focus on the lack of experiment; one might reprimand the one-directional approach, or negatively comment about the predictable obviousness of the songs – some others, on the contrary, will notice a band that still sounds fresh / refreshing as if it were a collective of youngsters with some hot peppers in their behinds, creating a synthesis of what the core of all this stuff is all about. Suffocation are purveyors of the essence of Death Metal; they always have, and still they do. It's that simple, and it goes for this newest as well. Pinnacle Of Bedlam is nothing more than another Suffocation creation, yet certainly nothing less either. These guys are even older than I am, but their balls still are made of concrete (-web) that had not eroded a single bit.
FYI: "Beginning Of Sorrow", the last track on the CD-version, is a re-recorded version taken from the same-called song of the legendary Breeding The Spawn album (in order to pay tribute to the twentieth anniversary of that classic album?).