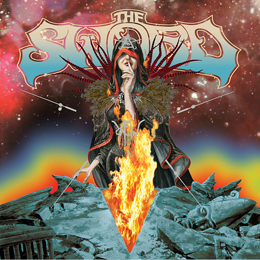 The Sword is an American heavy metal band from Austin, Texs. Formed in 2003, the band is composed of vocalist and guitarist John D. Cronise, guitarist Kyle Shutt, bassist Bryan Richie, and drummer Santiago "Jimmy" Vela III. Originally signed to New York-based independent label Kernado Records, the group released its debut album Ages Of Winters, which was largely written by Cronise before the band's formation, in 2006. The follow-up, Gods Of The Earth was released two years later, and gave the group its first entry on the US Billboard 200 chart.
In 2010 the band released Warp Riders, a concept album centred on an original science fiction narrative, which marked the first time the band had enlisted an external producer (Matt Bayles). Original drummer Trivett Wingo left the group later in the year, and was replaced briefly by Kevin Fender before Vela joined in 2011. After leaving Kemado and signing with Razor & Tie in early 2012, the group released its fourth album Apocryphon in October, which will be promoted on the Apocryphon Tour throughout 2012 and 2013. http://en.wikipedia.org/wiki/The_Sword
The Sword from USA have been around for quite a bunch of albums now, to be exact, Apocryphon is their 4th outing. There's been a few albums that have been hailed as the bridge between 70's hard southern rock and doom, and I would say that Apocryphon is another good attempt to do just that. So although the band's sound has its roots in hard rock from the 70s, The Sword is an updated, modern and entirely crushing groove experience. Musically, this album is great to sink your ears into. Thick but not muddy production, everything clear and easily heard.
End result is that The Sword have delivered another triumph, and I'm sure the hard rock masses will eat this one up.