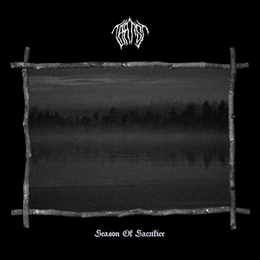 Taatsi are a Finnish two-piece project, which started writing and composing material at the end of 2013. In January 2014 they digitally released two songs, which immediately drew attention of Forever Plagued. This great American label signed Taatsi in order to record and release a full length with them. Things seemed to work well, and the debut full length Amidst The Trees is available as from now on. The review on this album will be written and updated very soon.
This review deals with that originally digitally self-released two-track demo. Forever Plagued are so kind, and so smart, to release it officially on tape-version. And since none of both tracks from this demo appear on the debut album, it makes it all even more interesting, doesn't it?
Season Of Sacrifice is also the title of the opening track (which lasts for exactly four minutes). This song is a down-tempo track, based on grim, lo-fi melodic riffing and a heavy rhythm section, barking screams and floating keyboards, with a nice dose of variation in tempo-structure and melody. In essence, it reminds me a lot to the First Spell by Gehenna, yet with a more desperate approach. Cult Of The Northstar (5:19), the second track, starts with a short acoustic introduction, and continues within the same vein of the former track. It's a slow-paced, little epic and primary-executed lo-fi Black-laden creation with attention for melody and atmosphere, as well as intensity and victory. The continuous bravery, despite the very slow tempo, is impressive, and until the end, with its acoustic outro, this song too stays captivating, even though primal in execution.
Two reasons to have the obligation to buy this material: 1) both tracks do not appear on the full length (see upcoming review, as mentioned in the first paragraph, and 2) because this material is simply too interesting to ignore!