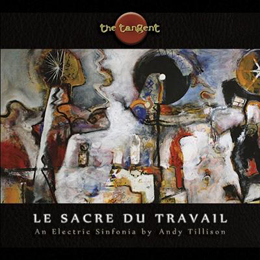 The Tangent have been in the business for so long that I don't think they need any introduction. Their debut album The Music that Died Alone came back in 2001 and the band have continued to deliver albums since then.. The Tangent are one of the ground breaking bands in their genre and by that I mean the prog/sympho rock genre. The Rite of Work includes a cast of several musicians – Jakko M Jakszyk / lead guitar, Gavin Harrison/ drums, Jonas Reingold / bass guitar and Theo Travis / flute, saxophone - and is terrifically orchestrated from beginning to end by main composer Andy Tillison (keys, vocals, guitars, bass).
The songs on this CD are long and involved giving the band a chance to flex their collective talent. The play is very classical and complex and there is a lot of attention paid to the details of the music. It may put off those who like a harder edge to their music. While most of the songs are quite likeable at first listen they don't fall into the trap of being overly clear, which means that it takes many listens to discover everything that's going on in the music. The music, therefore, is both strangely familiar, yet undeniably inventive, a good blend of instrumental and vocal segments that are densely layered.  There is a nice balance between band interplay and solos for individual members, although the guitarist and founding member Andy Tillison is maybe a bit more dominant in the solo sections than the others, This is very unique, with wide-ranging influences, all served up in an inventive mix of moods and styles that pleases on many levels, in the same league as late-period Pink Floyd, Genesis, The Moody Blues, Deep Purple's Concerto for Group and Orchestra-album, Zappa,
Le Sacre du Travail is not for casual listening; in fact, multiple efforts may be required to fully appreciate it.