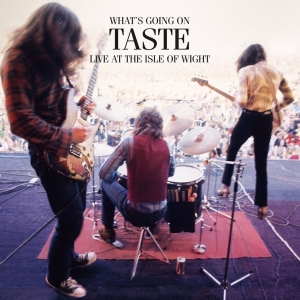 In the blessed year of 1970, a festival was held at the Isle Of Wight, to which around 600.000 people
attended.  You might call it a UK version of Woodstock if you like.  The bands that played were very
diverse, ranging from Jimi Hendrix, to The Doors, hell even Leonard Cohen and Joni Mitchell  
were there.
One of the bands that played on that festival was Irish band Taste, which featured the late Rory
Gallagher as frontmen.  I guess only people of my age, or slightly younger, might remember this great
blues-rock guitarist, who passed away in 1995, aged only 47, to liver damage, as a result of excessive
drinking.
The footage on this DVD was never released before, I've got no idea why.  I doubt this will sell in their
thousands, I guess only the old faithfull, who remember Rory Gallagher might buy this.  After all this
band, Taste, only existed for a few years, yet had it's success.  People who liked Cream, and of
course Rory Gallagher's later work, may be interested though.
Besides the footage from the festival itself,   you also get some bonus material, where some famous
other musicians, like Brian May, The Edge and others narrate about this band.
If you look at this DVD, it's hard to believe that in this intediluvial era, it was possible to organise such
an event, this would not be possible in our days, as nowadays artists require a minimum of amenities.