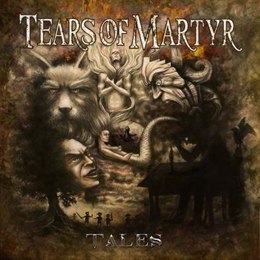 I have no idea why this album gets re-issued, but it has been released about one year ago. Unfortunately I cannot find the review done back then (otherwise I could just copy etc…), but anyway, I will keep it short. The band hails from the Canary Island (a part of Spain in the Atlantic) and was formed fifteen years ago. There was one full length before, called Entrance, which got released in 2010 via STF, and the band performed on stage in support of bands like Swallow The Sun and Dark Tranquillity.
Tales, the second full length studio album, brings so-called 'female-fronted' Metal, i.e. symphonic and catchy Melodic / Gothic / Dark Metal with female voices, which are classically skilled (read: operatic). Of course the music incorporates some grunts, grotesque and orchestral passages, fairylike ballades and so on. Done before a thousand times, and filled with painful predictability, fake emotionality and infantile heaviness. I will not be denigrating when it comes to the performance skills, for the execution is all right. But compared to specific acts from the Netherlands, Norway or Austria, and for my part Burkina Faso and Tuvalu inclusive, this material has everything we do not need, we do not want.
I'll keep it simple: thanks, but no thanks!