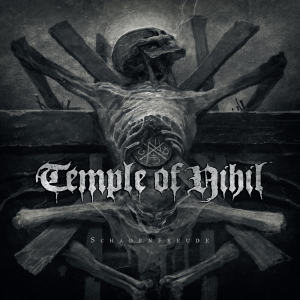 Okay, I have 'sort of' a jolly grin on my (pretty) face, some kind of smile, along with a grim, nasty look somehow. It might explain the duality of inner joy at the one hand and sadistic pleasure at the other. The pleasant emotions are simple to explain. After a hiatus of two years and a half, I started to get worried, frustrated, desperate, for Temple Of Nihil seemed to have faded away into eternal oblivion. After Soul Extremist, their grandiose debut EP that was released at the very end of 2016 (via Narcoleptica Productions and Symbol Of Domination Productions), this Russian project did disappear. It was a torture for my Inner Self, because I was craving for more, so much more.
And then again, I'll explain the sardonic and evil-looking – no, whatever… Let's skip this crap, and focus on the essence. And that might be a satisfying one. Indeed, Temple Of Nihil did return, with more than forty-seven minutes of Sonic Blasphemy and Aural Torture.
…which brings me to (a short moment of) normality right now. Schadenfreude is Temple Of Nihil's first 'real' full length studio album, now created / performed as a trio. It got released on compact disc in an edition of 500 copies via GrimmDistribution, which is part of the Satanath Records family. The physical edition comes with an eight-page booklet that lacks of any additional information – just some pictorial artwork by Vladimir 'Smerdulak' Chebakov (he did create some visual art for acts like Ossuary Anex, Arkona, Anachronaeon, Katalepsy or 1914 too). The mastering, just for your information, was done once again by Nabaath's Warkhoros (think: Remote, Khors, Black Flux, Kaosophia and many more).
The Russian trio (bassist / vocalist Pavel 'Corpse' Kurilenko, Pavel 'Draug' Guslyakov, and newly recruited permanent drummer Nikolai Vykhodtsev) continues their quest, which they started with Soul Extremist. Schadenfreude goes little further too. It stands for a highly technically performed form of Melodic / Traditional Black Metal with elements from Post-Black and Blackened Death Metal. That 'Post' aspect has to do with the very technical execution of the lead melodies and rhythm string section especially, which work well in symbiosis with the traditional basic structures. The themes of chaos, existential nihilism and void are well penetrated into the sonic basics of Temple Of Nihil's fierce material.
The better part is harsh and fast. Quite a big deal is like an expression of power, energy and destruction. The drum patterns strengthen that violent, explicit character a lot. For what it is worth, but the assistance of Nikolai is a great thing, for his percussion capacities are just sublime. The drum parts are incredibly impressive, and because of the natural approach, the programmed stuff, which would be an easy way, has no reason to exist. But when talking about that speed, one must recognize the fine equilibrium in between extremely fast parts and slowed-down moments, and everything in between. As said, the better part is fast, dwelling in between up-tempo excerpts and simply blasting ones. And you know; even within the more eruptional excerpts, Temple Of Nihil still succeed to have that balance in between old styled, nihilistic, no-nonsense violence at the one hand, and highly-skilled, almost progressive technical sublimity at the other hand.
And just additional, but a few blasting excerpts are deadly grinding, monstrous and maniacal in nature, yet still remaining blasphemous, and maintaining the apocalyptic character of the story. Ode, for example, is a prove of this attitude. Or a piece like Snakes In My Skull (I am sure that would be an uncomfortable feeling, these beast crawling around) defines that merciless, vengeful brutality in a mostly remorseless, unforgiving manner. …mardukian in strength and power, leaving no room for tranquillity or breather.
The mid-tempo and the slower parts, however, are at least as overwhelming, powerful and thunderous. They might come with acoustic elements (listen, for example, to the opening sequence of the title track) or any other atmospheric detail, but in each case, the elementary harshness remains. Once more, I can refer to the drum parts, but it is the whole experience that counts. In the former paragraph, I referred to Snakes In My Skull; well, what to think about the truly grandiose intermezzo at about three minutes, with acoustic guitars and grim screams at first, followed by an epic, confident guitar lead and, eventually, returning to a harsh, unforgiving and malicious effort.
Seriously, Schadenfreude might seem 'one another' album at first, but after dissection it reveals so much more, i.e. characteristic elements and details, that make this project somehow unique. Industrialised intermezzi like Htrib add a valuable dimension of the bleak atmosphere that characterises this album (before fading away). And with a piece like Postbeing, it leads us into funereal atmospheres at first, and blasting eruptions somewhat later on. I am not going to say that this is my favourite piece (hehe, actually, it is), but it expresses everything Temple Of Nihil stand for nowadays, including the fabulous acoustic / atmospheric intermezzi (some of them with those gloomy whispered voices) and pyroclastic outbursts.
Anyway, Schadenfreude has a lot to offer, and it does show the qualities of Temple Of Nihil. It might not be the most renewing album at all, but from qualitative point of view / listen, this is another master work. The production is sublime (little raw, yet still well-balanced within the mix), the song writing is just paying tribute to the essence of open-minded elegance in combination with a focus on the tradition of the Old School, and the execution is so honest, fearless, pure, convinced… Nothing more to add…
https://grimmdistribution.bandcamp.com/album/040gd-temple-of-nihil-schadenfreude-2019
https://www.concreteweb.be/reviews/temple-nihil