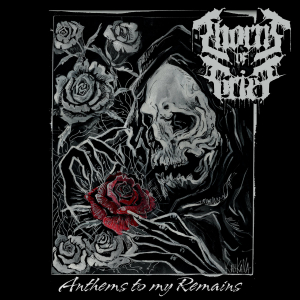 Mystic Rites are a project from Poland that surprised a couple of times with independently released material. Main member Nebiros however had some ideas that did not totally fit to Mystic Rites, so he decided to start another outfit. This one eventually got baptised as Thorns Of Grief. We're talking about the year 2018.
In Autumn from that very same year, Nebiros did canalise some of these ideas into actual compositions, for which he took care of production, mix and mastering himself. This resulted in a gathering of five tracks, which got pressed on compact disc in an edition of five hundred copies. In a partnership of Russia's Satanath Records and Dutch label Dying Sun Records, this first effort got released as Anthems To My Remains. I wonder, seen the title, whether there is something personal behind the concept; I actually think it is…
In addition: the CD edition got released in jewel case, including a four-page booklet, which includes the jolly lyrics (in English). And oh yes, the cool artwork has been done by Hellcatfairyart artist Mary Kankava (think: Ragnell, Mourner, Stromptha, Haissem etc.).
Let these songs be melodies for your utter decadence. A doom of your love and spirit in a world of complete and odorous waste. Nothing shall be left for those who feel nothing and no tears shall be wept over ones like you.
Anthems To My Remains brings a form of Funeral doom that essentially sticks to the roots of the genre. It's highly melodic, with twin / tremolo leads and a monumentally heavy rhythm section, and very low growls. That's the spine of the tradition, and there is nothing wrong with that. Actually, the quality of both song writing and performance reaches the level of the better bands in the genre, from Skepticism to Evoken, from Ahab to Thergothon, if you want to.
Yet then again, Thorns Of Grief are distinctive too in several ways. Nebiros does add some unique elements, both instrumentally as composition-wise. I am not just talking about the many tempo-changes (*) (though, believe me: the better part is slow, oh so slow indeed) or the use of intermezzi with Grand Piano (cf. a hymn like A Longing) or acoustic guitars (even though these ones are of high importance, evidently). It is not that easy to define, but there is something that makes this outfit an entity on its own; Thorns Of Grief somehow are able to create a specific own sound. And since the result is not bad at all, this fact isn't but a highlight. Yes, positivism from undersigned when reviewing a Funeral Doom album; why not…
(*): listen to the opening sequence of Till Our Rebirth to notice the doomed essence… not! What a blasting whirlwind (which returns), and then again: why not!
The use of synths is limited, but when used it is majestic, for it gives a specific direction to the sonic approach. Higher mentioned Till Our Rebirth, for example, comes with some hypnotising keyboards, besides a mesmerizing semi-acoustic passage and additional blackened screams - and this makes me happy (sic). It gives the whole a gloomy touch of hypnosia, a dimension that trespasses the limitations of the genre. Other excerpts with keyboards (or acoustic passages) too are beautifully (and professionally) mixed into the whole concept. The few synth lines in the last track, for example (Illusions) are simply mesmerizing.
The production is quite rough and unpolished, actually quite down-earthed and low-tuned. Okay, nobody craves for a clinically correct sound quality, but it might be my sole remark – although negligible in comparison to the qualitative high-standard compositions. Besides, that production reminds me a lot of the origins of the Doom-Death scene (and then I am referring to the 'real' one, and not the pathetic semi-atmospheric pop-goth one). And since the border in between the darkest edges of (Traditional) Doom Death Metal and Funeral Doom are nothing but empty-minded constructions, this might be a surplus. Yet still it might be a tiny disappointment to notice that the back-strings (rhythm and bass guitars) for example are too submissive to the totality.
https://thornsofgrief.bandcamp.com/releases
https://satanath.bandcamp.com/album/sat248-thorns-of-grief-anthems-to-my-remains-2019
http://satanath.com/releases/item/sat248.html
https://dyingsunrecords.bandcamp.com/album/anthems-to-my-remains